How does a pilot navigate through the uncertainty of combat?
Carey Lohrenz, the U.S. Navy's first female Tomcat pilot, recently shared a key takeaway from her training with C-Suite Network™ members: Aviate, navigate, and communicate.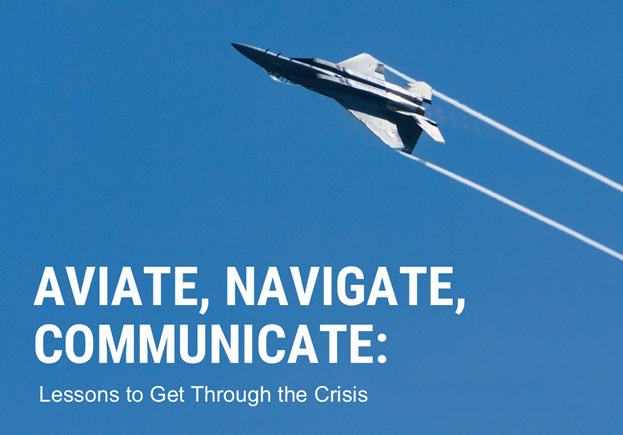 In a new article for CommPRO.biz, I discuss how this simple maxim applies to managing through the coronavirus pandemic.
In summary, the idea behind aviate is to excercise the skills required to fly the plane - in the same way business/agency leaders need to draw on their expertise to run their businesses. Like pilots, leaders have to make decisions based on imperfect knowledge and changing conditions to ensure, above all, they keep companies flying.
You need to know where you are going to navigate but also be flexible enough to recalibrate instruments, potentially change strategy and positioning, while flying towards your objective.
Planes, like business or communications leaders, have blind spots. When flying in formation or combat, pilots must communicate. Simplicity of language, clarity and frequency of communication are key.
Communication may be third in the list of a pilot's actions – but it is integral to the other two.
As I argue in the CommPRO.biz article, leaders need to get aviating and navigating right, and then communicate.
When a team is struggling to aviate it's important to identify and fix what is wrong. Getting input from others to address blind spots is invaluable.
If the coordinates required for success have changed – as they have through the pandemic – taking the time to reset goals and mapping how you will get there is critical to achieving your objectives.
And, if your team is lost, not aligned or onboard with the path you are taking, communicate, communicate, communicate.
Furthermore, with clients...communicate, communicate, communicate.
Lohrenz shared a valuable reminder, equally applicable to pilot, business/agency leader and communicator, "When focused on complex tasks, communications need to be simple and concise."
Read the full article here.
Lohrenz, author of Fearless Leadership: High-Performance Lessons from the Flight Deck, is a motivational speaker and a leadership coach.
Simon Erskine Locke, founder & CEO of CommunicationsMatchTM
CommunicationsMatch™ offers search tools and services to help companies find, shortlist, and hire agencies, consultants, and freelancers, and help agencies and professionals generate new business leads. During the coronavirus pandemic, CommunicationsMatch is leveraging its resources to help connect struggling not-for-profits and companies with Communications Volunteers willing to give their time to help others at no cost or discounted services. Through its partnership with the Marketing IMPACT Council™, it is offering communicators access to a unique low-cost telehealth services program from MDLIVE, as well as additional time and discounts on membership plans. Find out more at the CommunicationsMatch Insights Blog.