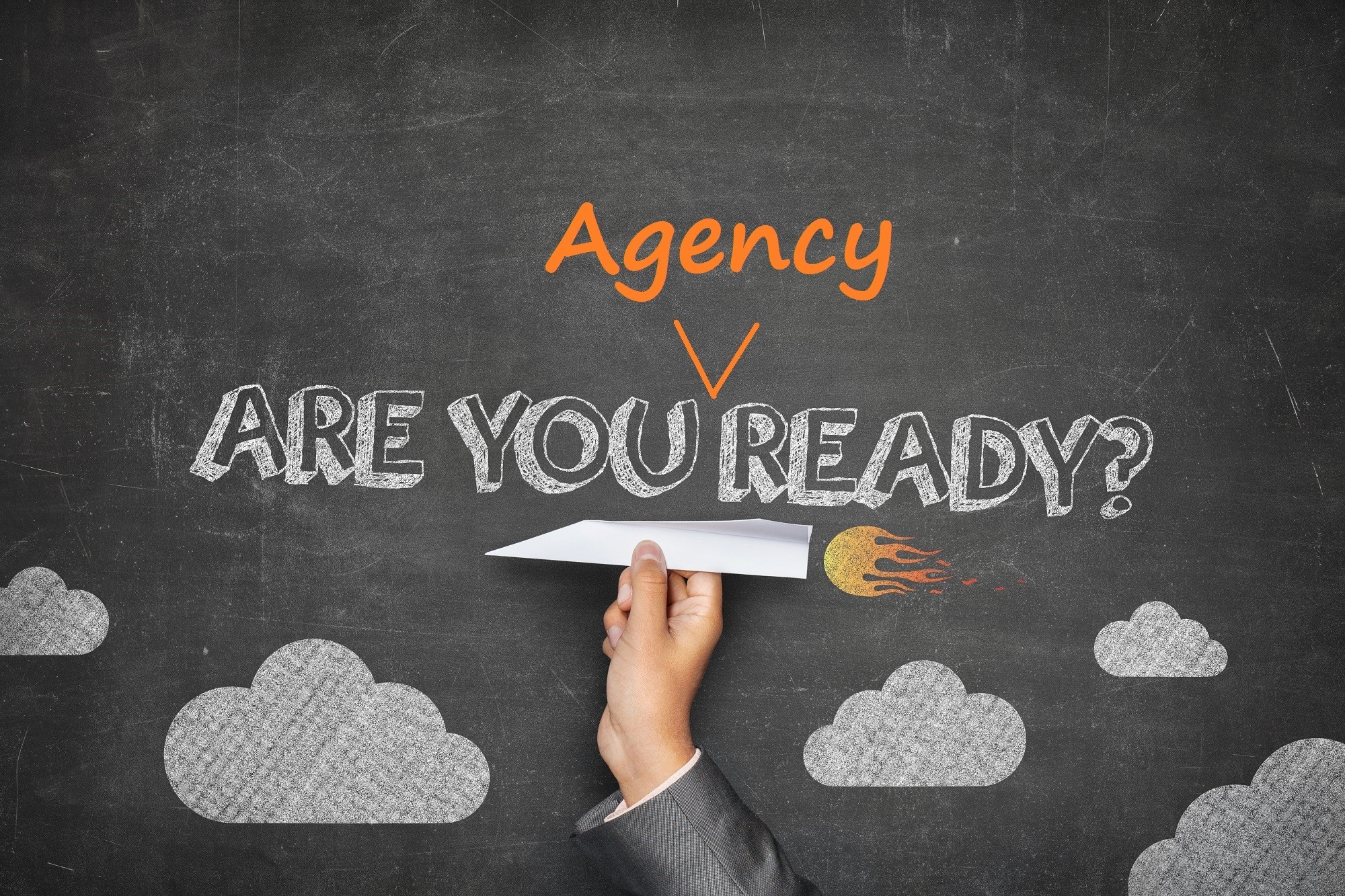 One of the most important decisions business and corporate communications leaders make is hiring a PR or communications agency. Yes, there's the issue of cost, but even more important is that agencies or consultants will be responsible for your brand. It's important to make the right choice.
But, as Robert Udowitz and Steve Drake – principals of our partner, RFP Associates - and I argue in a new article for CommPRO.biz "Are You PR Agency Ready?," companies all too often rush into the agency search process and end up frustrated. 
Watch this video from our Agency Search Series on "When is the Time to Hire a PR Agency".
There's a lot at stake. We note:              
"When speed is the driver, issues important to the success of an agency engagement don't get the attention they require, including the scope of work, required skill sets, how the search itself will be conducted, and, critically, whether the company is PR agency ready."
Surely if you've made the decision to hire a PR agency or consultant then you're agency ready, right? 
It's not so simple. Tens, even hundreds of thousands of dollars could be on the line. And, at best these dollars may not be fully-leveraged, or at worst, be wasted when companies don't take the time to review their agency readiness, plan ahead, and map out an effective agency search process.
The questions companies need to ask themselves before hiring an agency are in our new Agency Readiness Checklist, which will help companies save time, money, and headaches in an agency search, and position them to find agencies or consultants that are the best match for their needs.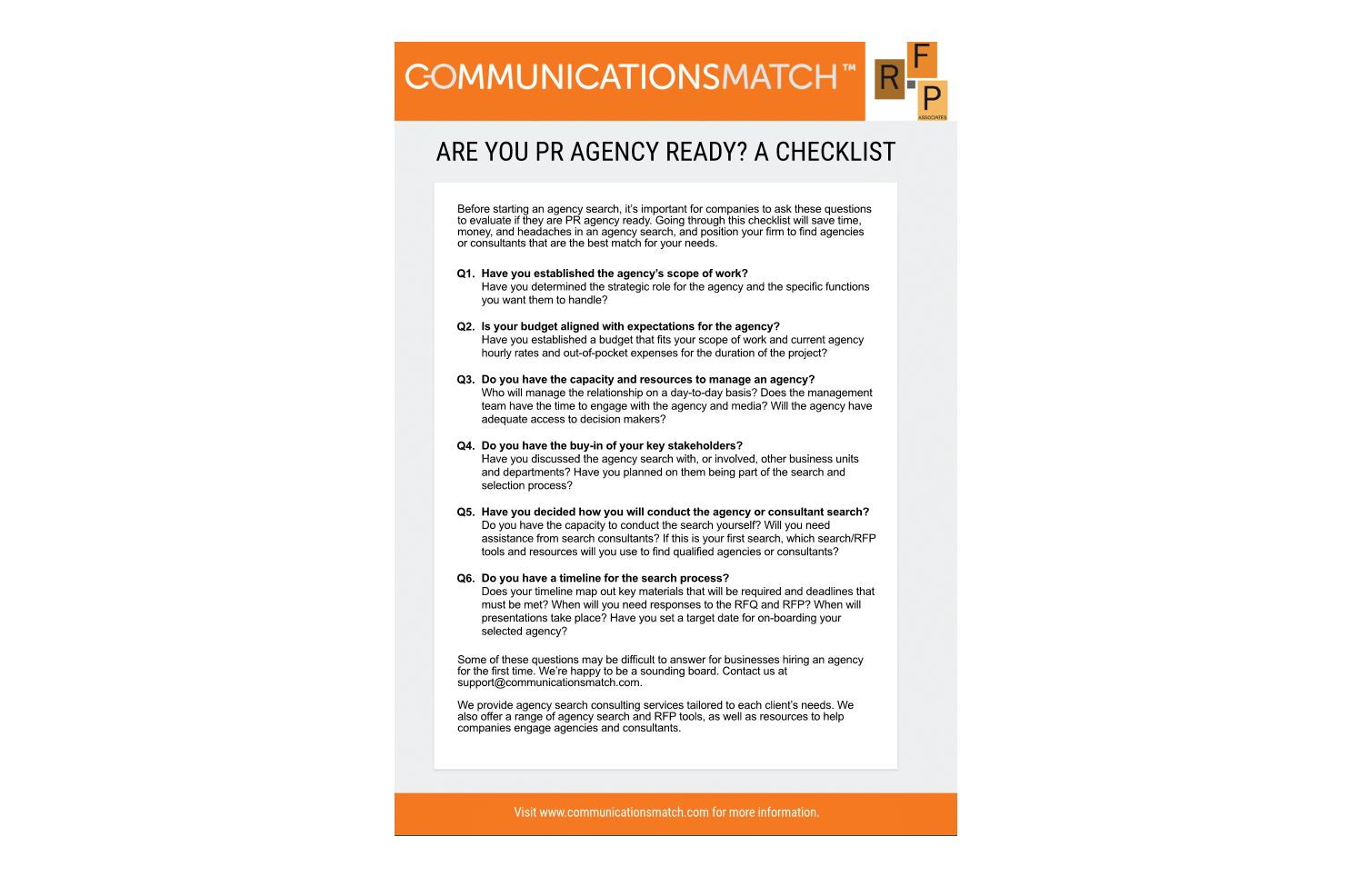 These include:
Q1.  Have you established the agency's scope of work? 
Have you determined the strategic role for the agency and the specific functions you want them to handle? 
Q2.  Is your budget aligned with expectations for the agency?
Have you established a budget that fits your scope of work and current agency hourly rates and out-of-pocket expenses for the duration of the project?
Q3.  Do you have the capacity and resources to manage an agency?
Who will manage the relationship on a day-to-day basis? Does your management team have the time to engage with the agency and media? Will the agency have adequate access to decision makers?
Q4.  Do you have the buy-in of your key stakeholders?
Have you discussed the agency search with, or involved, other business units and departments? Have you planned on them being part of the search and selection process?
Q5.  Have you decided how you will conduct the agency or consultant search?
Do you have the capacity to conduct the search yourself? Will you need assistance from search consultants? If this is your first search, which search/RFP tools and resources will you use to find qualified agencies or consultants?     
Q6.  Do you have a timeline for the search process?
Does your timeline map out key materials that will be required and deadlines that must be met? When will you need responses to the RFQ and RFP? When will presentations take place? Have you set a target date for on-boarding your selected agency?
Some of these questions may be difficult to answer for businesses hiring agencies for the first time. It's hard to determine an agency scope of work if you have never hired one. And thinking through budgets isn't easy – unless you know how agencies or consultants bill. As professionals who have run communications functions and agencies, we are happy to be a sounding board. Email us with questions or to discuss your agency readiness and search needs.    
In the CommPRO article, we provide additional perspective around these agency readiness questions and what companies need to think about to ensure they are agency prepared.
We cover: 
How to define the scope of work for an agency

Matching budgets to the PR agency's scope of work

Ensuring you have the resources to manage an agency

Getting the right internal departments involved, thinking through the search process

Drafting a timeline for the search process
We also outline the risks of a rushed process:
"…candidate agencies that may not be a good fit for a project, clients that don't have the internal capacity to properly engage with their newly-hired PR team and, frustration on both sides when the expected goals aren't achieved. The net result? Money down the drain, rather than in the bank."                 
Making sure that your company is agency ready and has a thorough search process for finding communications agencies and consultants that match needs are the keys to successful client-agency engagements required to build brands and reputations.
Click here to read the CommPRO article.
Find out more about our agency search and online RFP tools at www.CommunicationsMatch.com.
About the Authors
Steve Drake and Robert Udowitz founded RFP Associates in 2011 after observing the agency selection process from "both sides of the aisle" and recognizing the need to streamline and improve the way searches are made and agencies selected from an honest, unbiased approach. Over the course of their careers Robert and Steve have worked at agencies, corporations, and trade associations in New York, Washington, and, for Steve, in Beijing, China, where he opened Fleishman-Hillard's first Asian office. In recent years they have also been sole practitioners for a variety of clients seeking media, crisis, and strategic counsel. 
Locke developed and launched CommunicationsMatch, an agency search and engagement platform with 5,000 listed firms and professionals in 12 countries, to help companies find and engage agencies, consultants and freelancers that match needs. A founder of communications agencies and startups, he previously headed communications functions at Prudential Financial, Morgan Stanley, and Deutsche Bank.