Developed by communicators for communicators, CommunicationsMatch's powerful search and agency engagement tools and resources help companies find and hire agencies, consultants and freelancers with the specific skillsets that match their needs. In this introduction, we share five things you'll want to know about ways in which we can help grow your business.
Easy-to-use, sophisticated search and engagement technology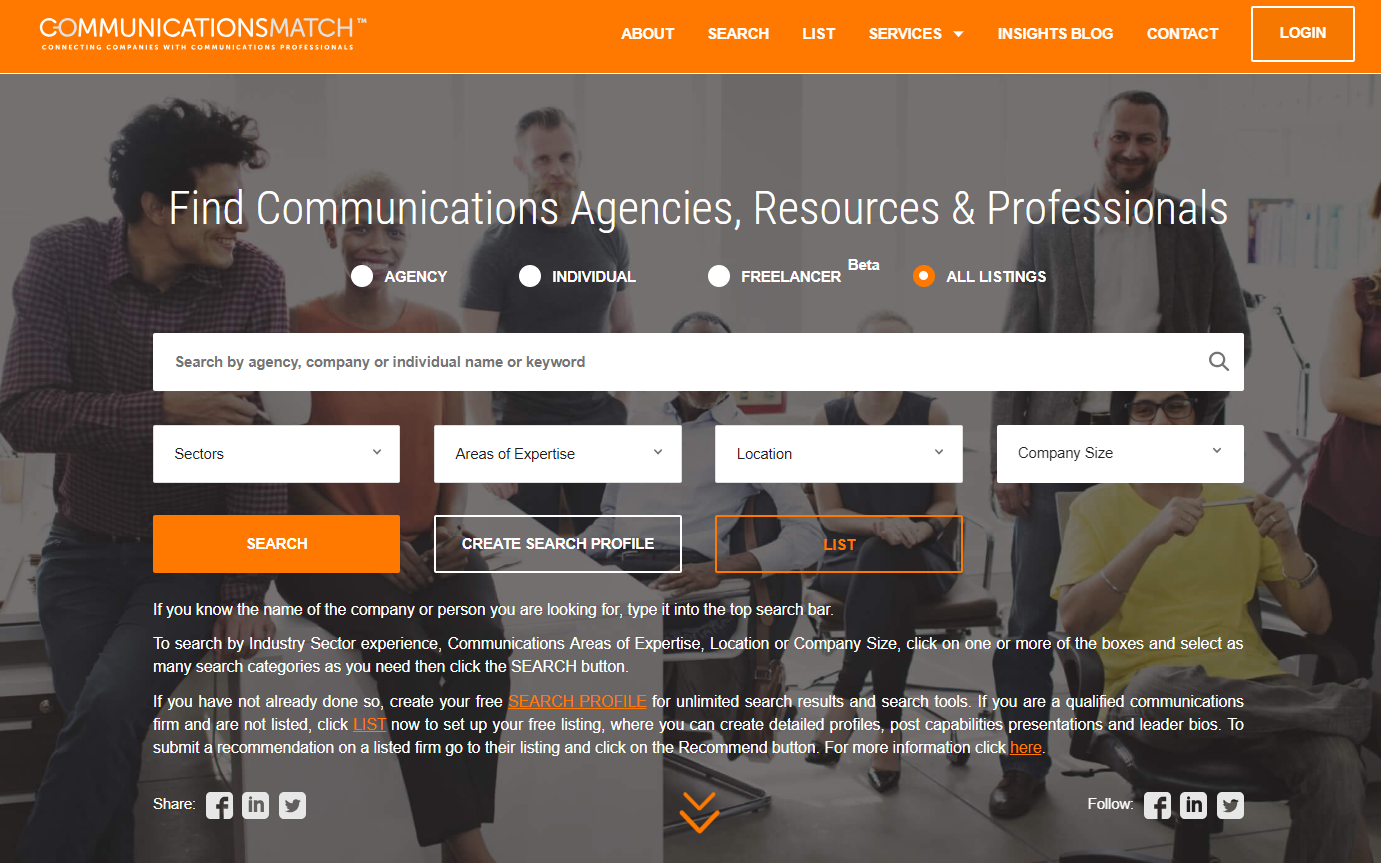 CommunicationsMatch is a sophisticated matching search platform (think Match.com) where agencies, consultants and freelancers upload detailed profiles with their areas of industry and communications expertise, location, and agency size. Agencies can highlight if they are women or diverse owned, as well as their organizational memberships and designations, so companies can refine searches by these criteria. Profiles can include leader bios and capabilities presentations and clients can provide testimonials.
Companies looking for agencies can find providers that match their needs across multiple categories of expertise in seconds. Watch our "How to Search" video:
Our Agency Select request for qualifications (RFQ) and request for proposal (RFP) online tools, developed with leading search consulting firm, RFP Associates, helps companies efficiently request information and submit RFPs to selected agencies. It's a simple and highly-effective reinvention of the typical RFQ/RFP process.
Comprehensive resource for companies, a level playing field for communications professionals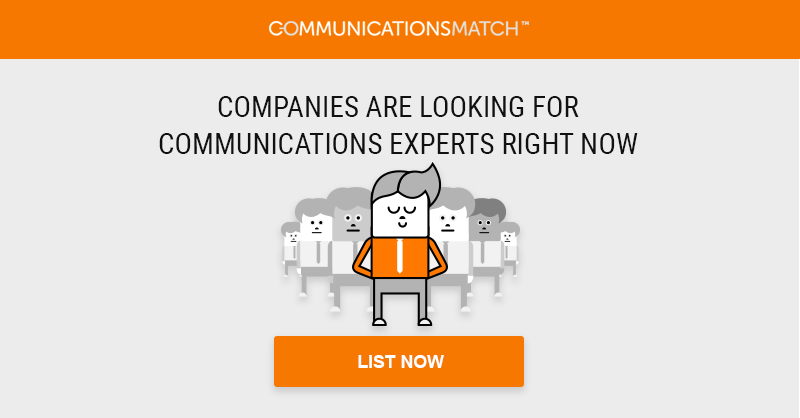 We have 6,000 agency and professional profiles of agencies, consultants and freelancers on the site from 12 countries. Our community is growing every day. CommunicationsMatch is one of the most comprehensive search tools for quality agencies and professionals in the industry and it's not limited by organizational membership or advertising commitments. And there's no commission to pay when agencies and companies want to work together. Agencies, consultants and freelancers pay a modest annual listing fee.
Search is always FREE and our algorithm is driven by search terms, not who pays the most to get top billing. We put companies in the driver's seat to find, review and request information and proposals from communications experts that meet their criteria.
We connect companies looking for "relationships" with communications agencies, consultants & freelancers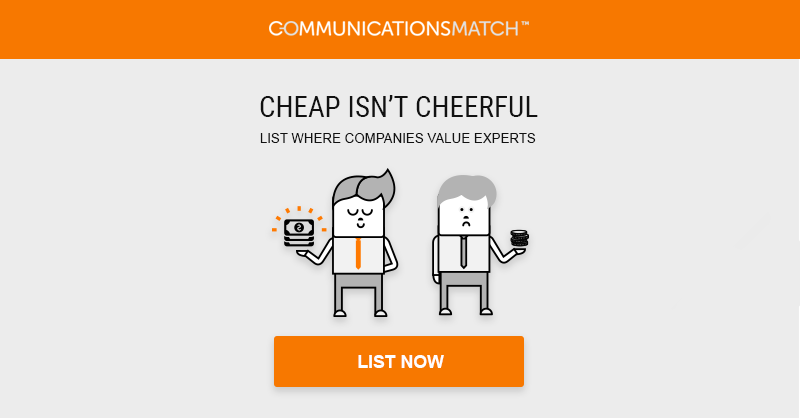 We have taken the path less traveled. We're not about hookups. We're not a search tool to find or bid out projects at the lowest possible price. We don't take a commission on assignments from agencies or companies. We're communicators who built CommunicationsMatch for professionals who want to be found by companies that value their expertise. And, we built CommunicationsMatch for companies who recognize and value partnerships with experts who understand their business, goals and objectives. Our approach means agencies, consultants and freelancers are motivated to do their best work and engage over the long-term.
More than agency search technology: We offer agency search consulting, next day crisis & opinion surveys and developer search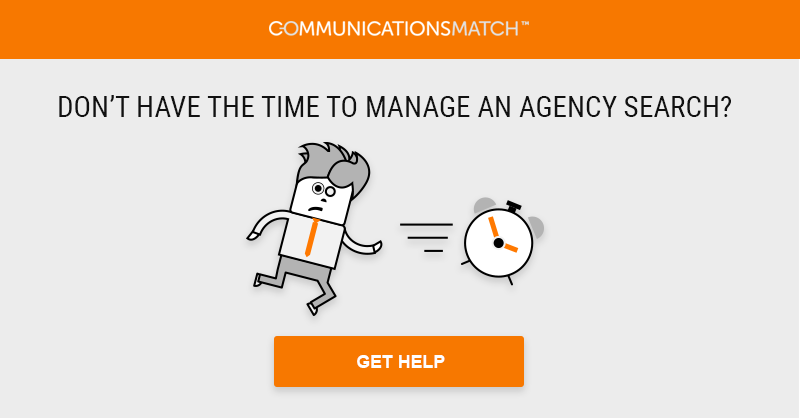 We believe technology is a powerful starting point for searches and engagement, but we know that companies don't always have the bandwidth to manage a search. We provide agency search consulting services tailored to the specific needs of each client with industry leader, RFP Associates.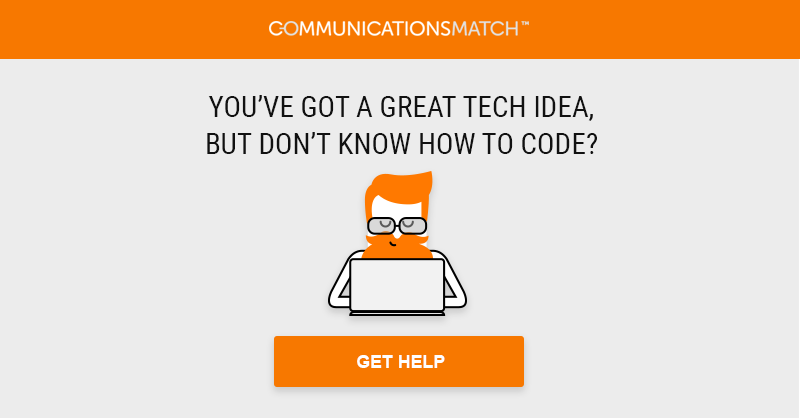 We also help companies, agencies, and entrepreneurs find developers and programmers in Eastern Europe to build and manage technology platforms.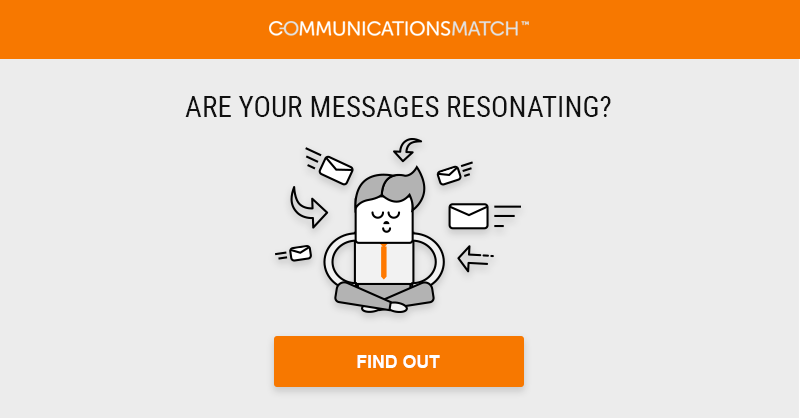 With our partner, Researchscape International, we offer Crisis and Opinion Surveys for a flat-rate, with next-day results. Researchscape draws upon its specialized communications research and artificial intelligence expertise to field surveys with nationally representative panels, analyze the data, and produce reports on the findings within 24 hours of fielding.
Agency Search Resource Center, Communicators-to-Communicators Video Series & Insights Blog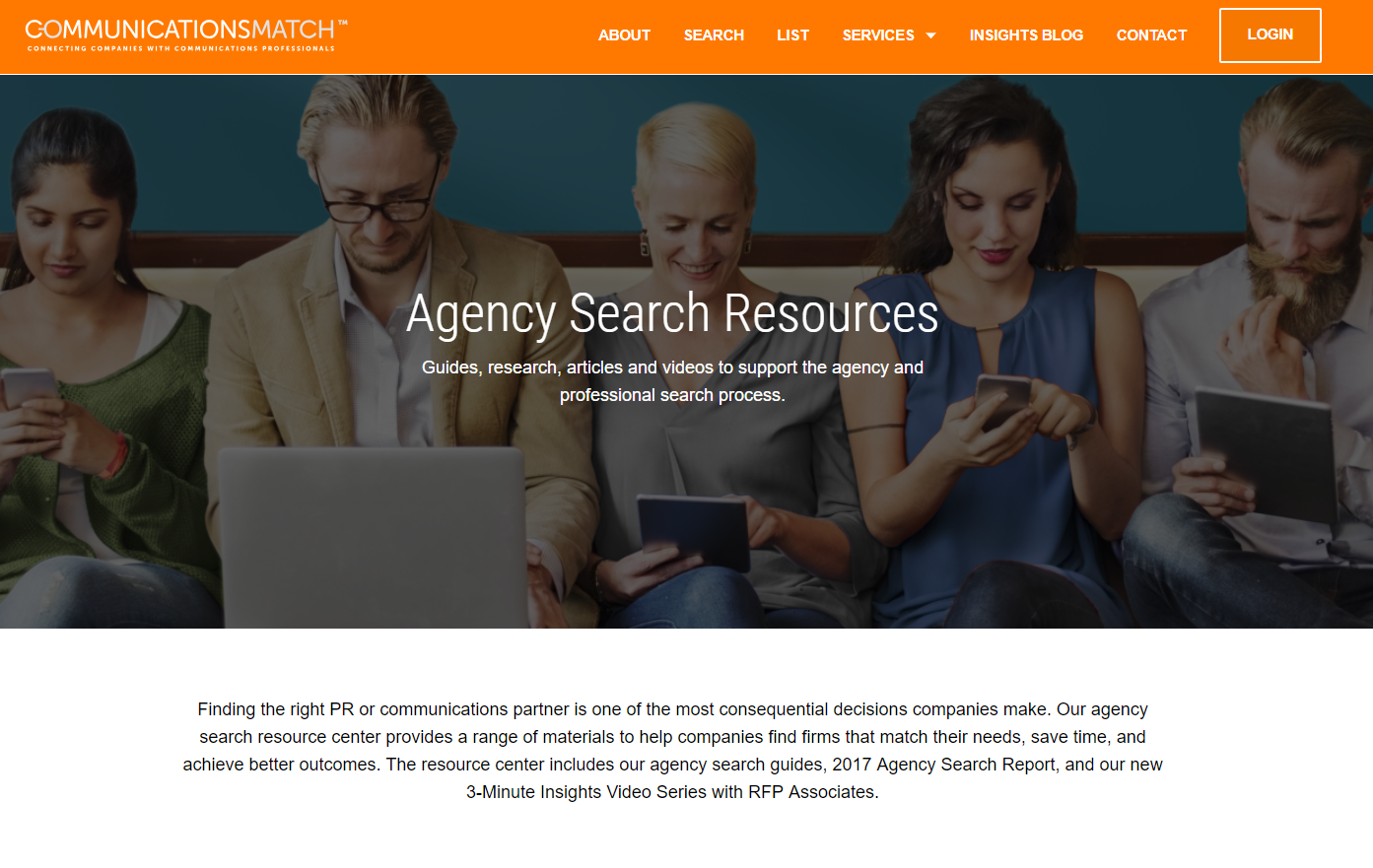 Our new agency search resource center is a comprehensive source of insights, research, guides and videos that help companies achieve better agency search outcomes. Since hiring an agency is one of the most consequential decisions a company will make, we leverage our years of experience in hiring, firing, and managing agencies to help companies navigate the agency search journey.
Our agency search video series features RFP Associates' Steve Drake and Robert Udowitz discussing a comprehensive range of topics including: Why hire a PR or communications agency, the role of RFQs and RFPs, and how to select finalists.
Our 2018 PR & Communications Agency Search Guide takes a comprehensive look at the search and selection process. Our research into search trends provides agencies and companies valuable perspective into the drivers of search.
In our Insights Blog, CommunicationsMatch and listed companies share unique perspective on communications issues. One of the key themes we explore is the intersection between communications and behavior – and their lessons for PR, communications, and marketing practice. Read: "Tunnels & Funnels: Why We Make Bad Decisions, and How We Can Make Better Ones," "Thinking Outside The Box To Make Better Client Connections," and "Slow PR: Communications Strategies For a Fast World".
We are nearing 100 Communicators-to-Communicators 3-Minute Insights Videos on the CommunicationsMatch YouTube channel. In these videos, industry leaders, consultants, editors, and educators share perspective and takeaways for the communications community.
Over the last year we've continued to grow steadily, working to become an integral part of the communications community. We've sponsored and supported events including PRSA's Counselors Academy, the Museum of Public Relations' Black PR History Month, spoken at the PRSA NJ chapter's event on Crisis Communications in the #MeToo Era, and established partnerships with the National Black Public Relations Society, RFP Associates, Researchscape, CommPRO, and others.
We've launched digital marketing initiatives and are engaging with companies and agencies. We're helping companies find communications agencies that match their needs and helping agencies generate new business leads.
We look forward to working with you and making a difference to your business. That's why we're doing this.
Need help or want to know more? Contact me at [email protected].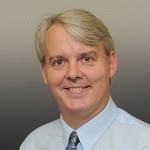 Simon Erskine Locke, Founder & CEO of CommunicationsMatchTM
Locke writes extensively on issues related to communications, PR, media, and behaviors. Prior to founding CommunicationsMatch, he held senior corporate communications roles at Prudential Financial, Morgan Stanley, and Deutsche Bank and founded communications consultancies.
CommunicationsMatch offers communications & PR agency search tools and resources that help companies find, shortlist, and engage communications agencies, consultants and freelancers by industry and communications expertise, location and size. The site has 5,000 agency and professional profiles in areas including: crisis communications, public relations, internal communications, government affairs, investor relations, content marketing, social media, SEO, website development, photography, and video.