The Agency Search Resource Center on CommunicationsMatch™, the first online search platform dedicated to finding and hiring PR and communications firms, offers tips, insights and perspective on how to achieve better outcomes when evaluating and hiring public relations, communications and digital marketing agencies.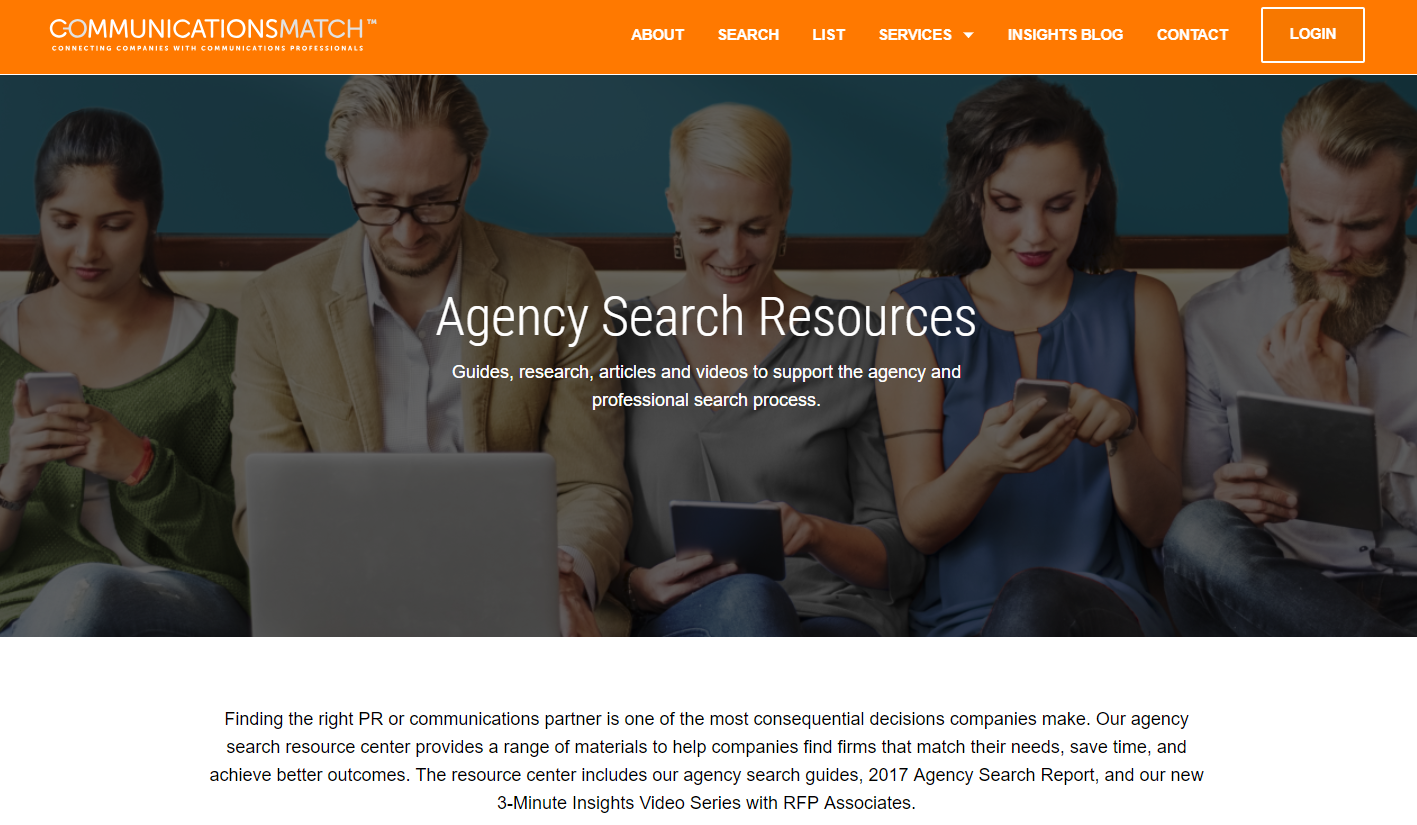 The agency search and hiring resources include:
A Client's Guide to PR & Communications Agency Search
The Guide to Agency Search is an invaluable resource for small and medium-sized businesses looking to engage communications resources for the first time, as well as corporate communications leaders looking to make the best hiring decision for their company. Written by Simon Erskine Locke, Founder and CEO of CommunicationsMatch™, Steve Drake and Robert Udowitz, Principals of RFP Associates -- all three former heads of corporate communications functions and agencies -- the Guide draws upon decades of agency hiring and onboarding experience from both sides of the table.
The Guide outlines the importance of a comprehensive search process for agencies and consultants that match a company's needs, using an RFQ (Request for Qualifications) and RFP (Request for Proposal) process to select finalists. It covers how to select agencies with the best fit for assignments and the keys to agency onboarding.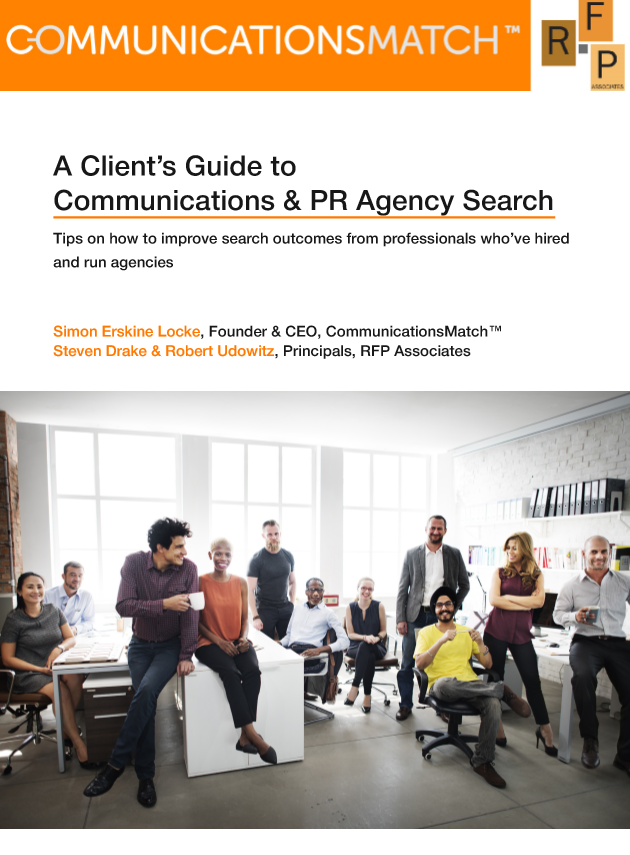 Agency Search & Hiring Report
The 2017 Agency Search & Hiring Report highlights public relations, communications and digital marketing hiring trends based on a survey of corporate communications and industry leaders. The report reveals the importance of word-of-mouth when it comes to finding agencies as well as the limitations of asking peers for recommendations. It details expected agency turnover, the growing focus on engaging digital agencies, and discusses the continued primacy of public relations as the communications discipline considered the most important to achieving business goals.
An updated 2018 Agency Search Report, with additional data from a follow up survey, will be published in the second half of the year.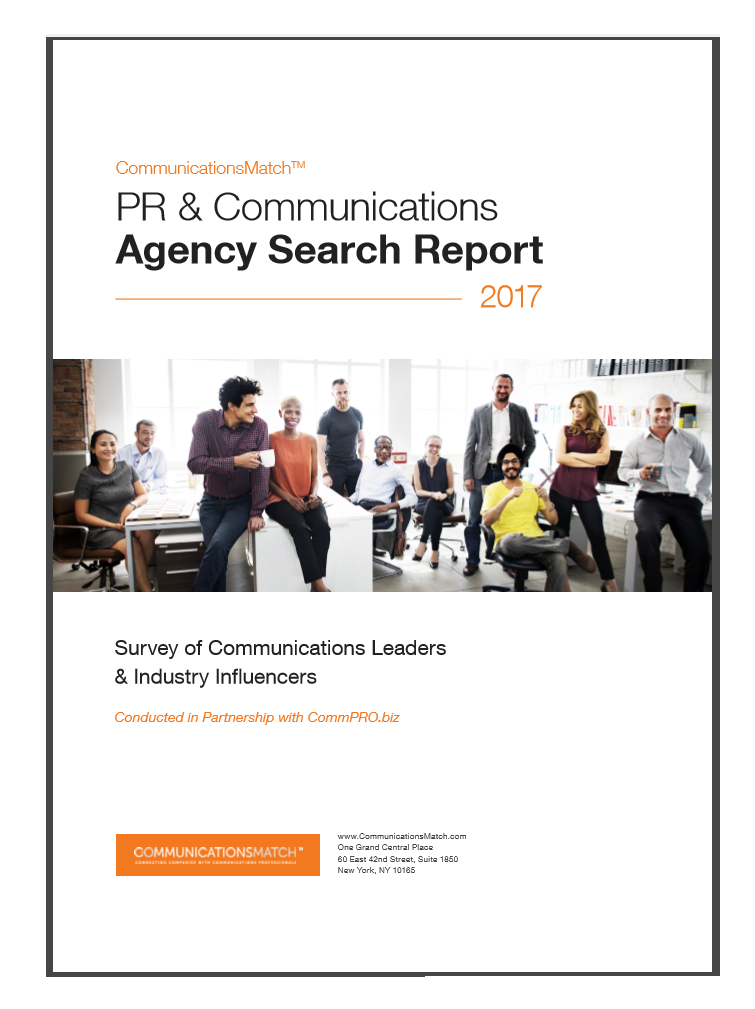 Agency Search Video Series
A new Agency Search Video Series featuring RFP Associates' principals Steve Drake and Robert Udowitz, covers topics including: Why Hire a PR Agency?, What is an RFP?, What Are The Keys to Successful Searches?, and When to Use a Search Consultant? The video series of 12, three-minute segments, distills key points from the client's Guide to Agency Search and adds context for companies and corporate communications leaders seeking agencies.
Agency Search Articles
Articles in the agency search resource center cover a range of issues including how to conduct an agency search, RFP must-dos, the importance of evaluating people as well as agencies, and the importance of including diverse communicators in the search process. Here's a selection of some topics: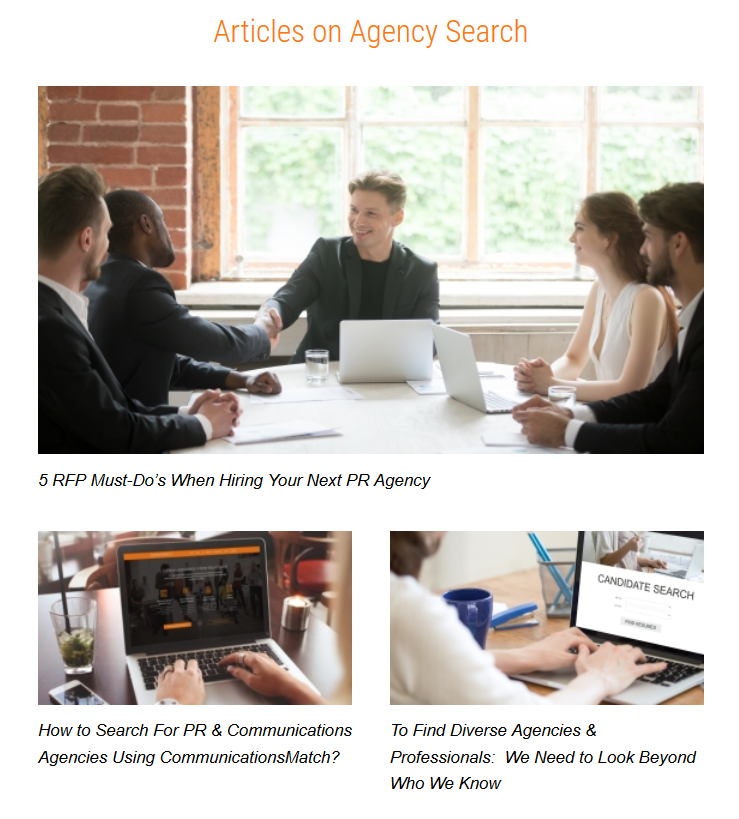 Search Consulting Experts
Leveraging our partnership with search consulting experts RFP Associates, articles from other partners and contributors to our Insights Blog, along with interviews from our YouTube Communicators-to-Communicators Video Series, we'll continue to add new content to the Agency Search Resource Center.
Simon Erskine Locke, Founder & CEO of CommunicationsMatchTM
CommunicationsMatch offers communications & PR agency search tools and resources that help companies find, shortlist, and engage communications, digital marketing and branding agencies, consultants and freelancers by industry and communications expertise, location and size. The site has 5,000 agency and professional profiles in areas including: crisis communications, public relations, internal communications, government affairs, investor relations, content marketing, social media, SEO, website development, photography and video. Prior to founding CommunicationsMatch, Locke held senior corporate communications roles at Prudential Financial, Morgan Stanley and Deutsche Bank and founded communications consultancies.