Our research into the hiring practices of Fortune 1000 companies and large non-profit associations, conducted with the support of Researchscape, the Institute for Public Relations, and communications industry leaders, offers takeaways for client-organizations looking to hire agencies.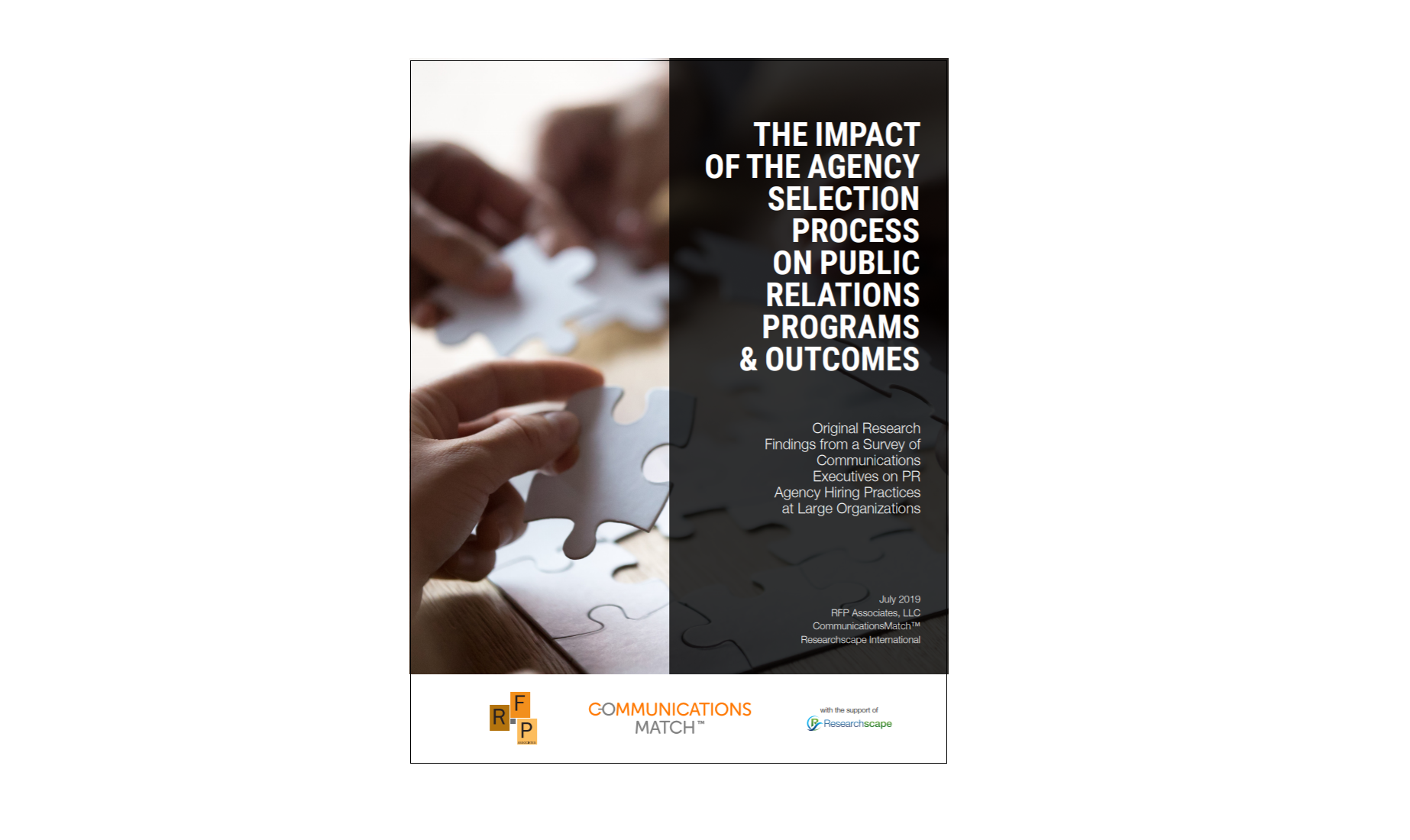 Launched last week on the Institute for Public Relations' blog and added to its research library, the new report, The Impact of the Agency Selection Process on Public Relations Programs and Outcomes, highlights opportunities to improve search outcomes and build longer, more productive relationships.
Hiring Employees Versus PR Agencies
The findings, widely covered by the trade media, uncover the differences between the comprehensive process companies use to hire employees versus their approach to engaging agencies. When hiring employees, many use search tools or recruiters to cast the net wide and employ headhunters to select the best candidates before conducting multiple interviews. This thorough search process may generate 100 resumes or more to create a shortlist that is supplemented by candidates leaders may know or that peers recommend.
Personal and Peer Networks Used To Find Candidate Agencies
When it comes to hiring agencies, though, the process is far more limited. More than seven-in-ten respondents said they rely on their personal expertise to select agencies and around two-thirds use word-of-mouth recommendations to identify just two to five initial candidates.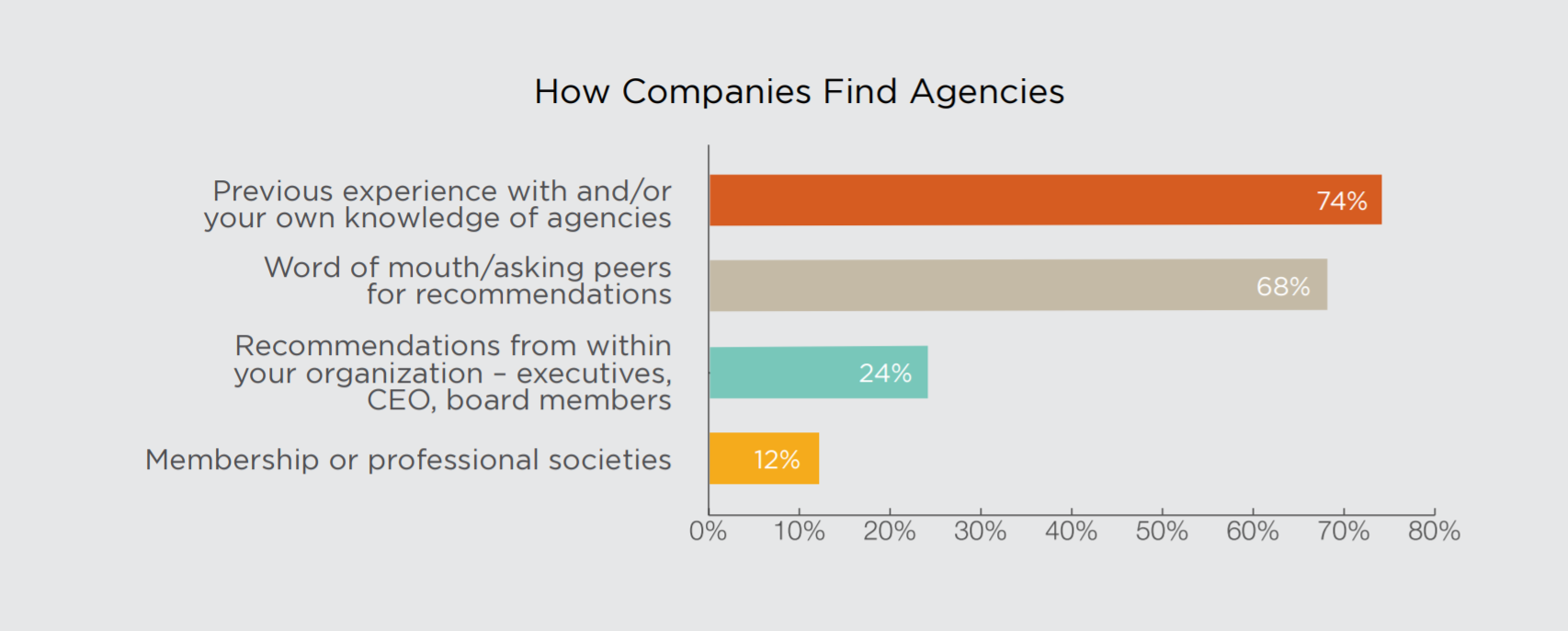 Although two-thirds of client-organizations use RFPs, clearly a key component of what most would consider a thorough search, the research shows companies and agencies falling short in the process.
RFPs Don't Include All the Information Agencies Need
All too often, RFPs don't include all the information agencies need to respond. More than half (54%) of respondents didn't include a budget – a critical element for agencies. The study also found that agencies were providing boilerplate responses, upselling, or submitting proposals that were simply not what companies had requested.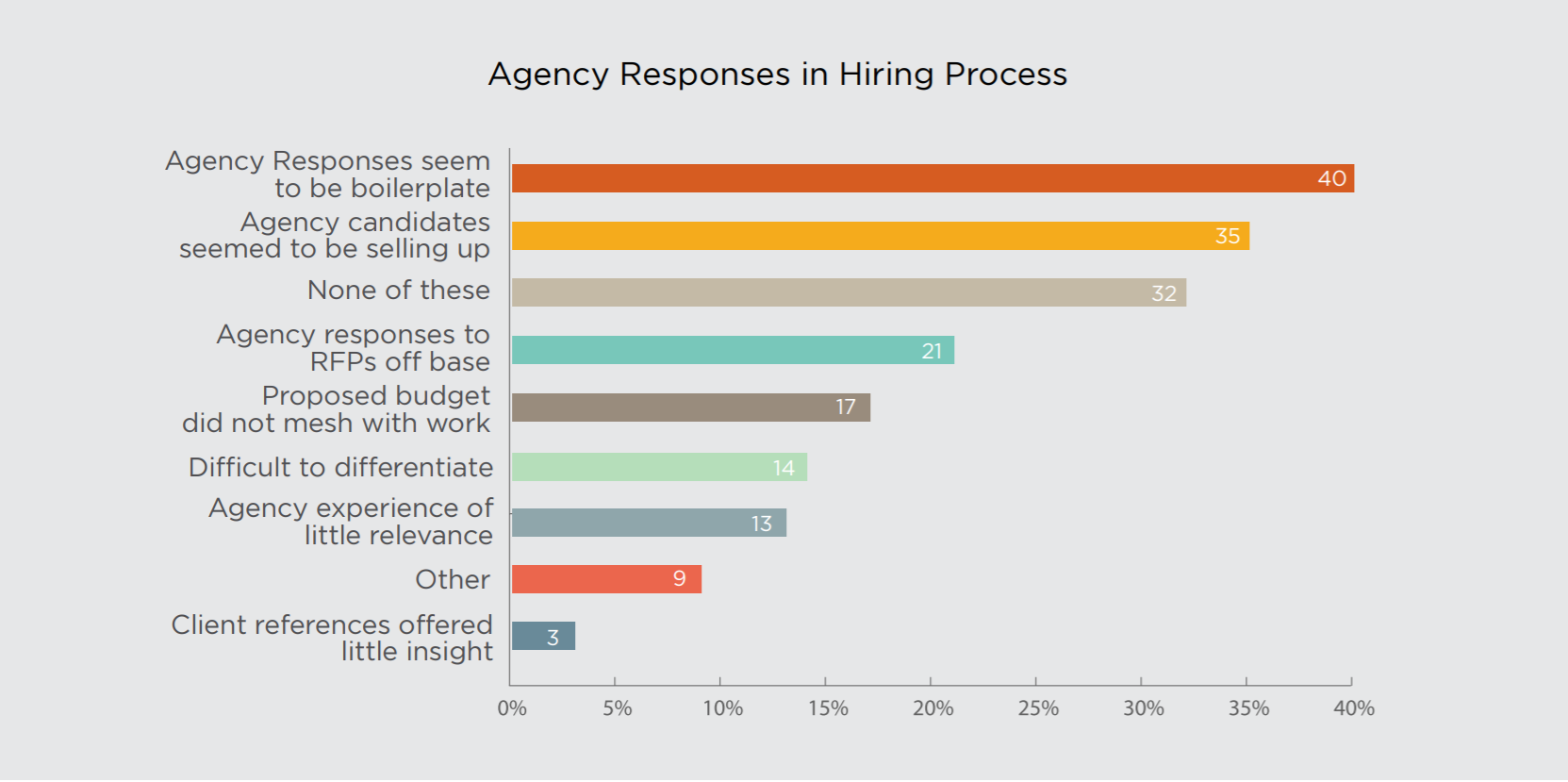 Even though leaders recognize that taking more time for searches and including more candidates would be ideal, given time and resource constraints, it's clear that they are defaulting to a process that is considered "good enough."
Client Satisfaction With Agencies is Mixed
Why does this matter? There's a consistent message from the research – client satisfaction with agencies is mixed and many are not convinced they made the right choice.
There's A Cost To Getting Agency Hiring Decisions Wrong
There's a real cost for companies when they get these decisions wrong. The research shows that where companies use a thorough search process, agency and client expectations are more likely to be aligned and satisfaction higher. The flip side is, if the process hasn't been rigorous it's more likely the relationship will get off to a rocky start. And getting back on track is unproductive time spent.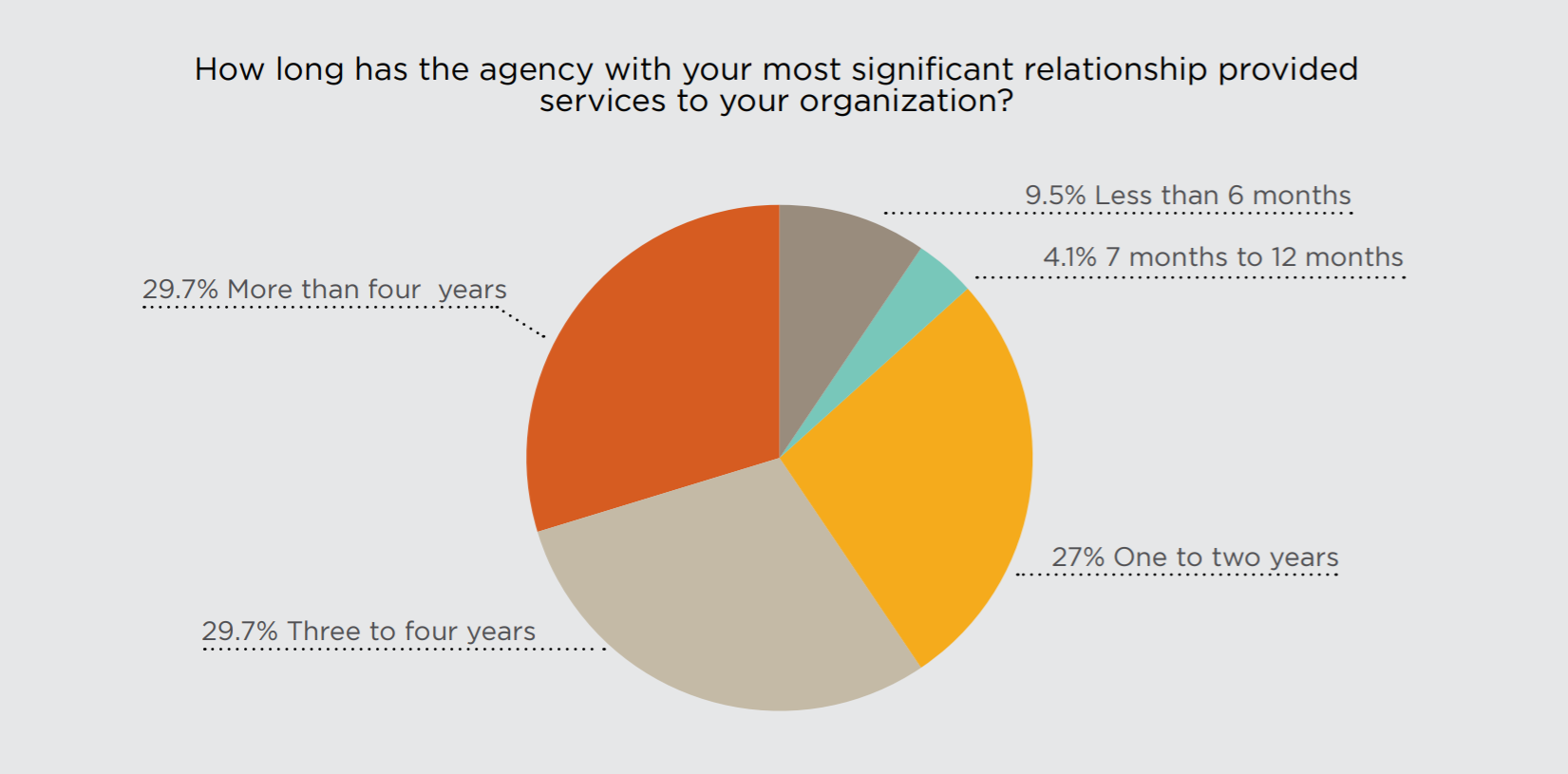 The most significant cost is agency turnover. The data show 70% of primary agency relationships were less than four years in length.
Satisfaction is the Driver of PR Agency Longevity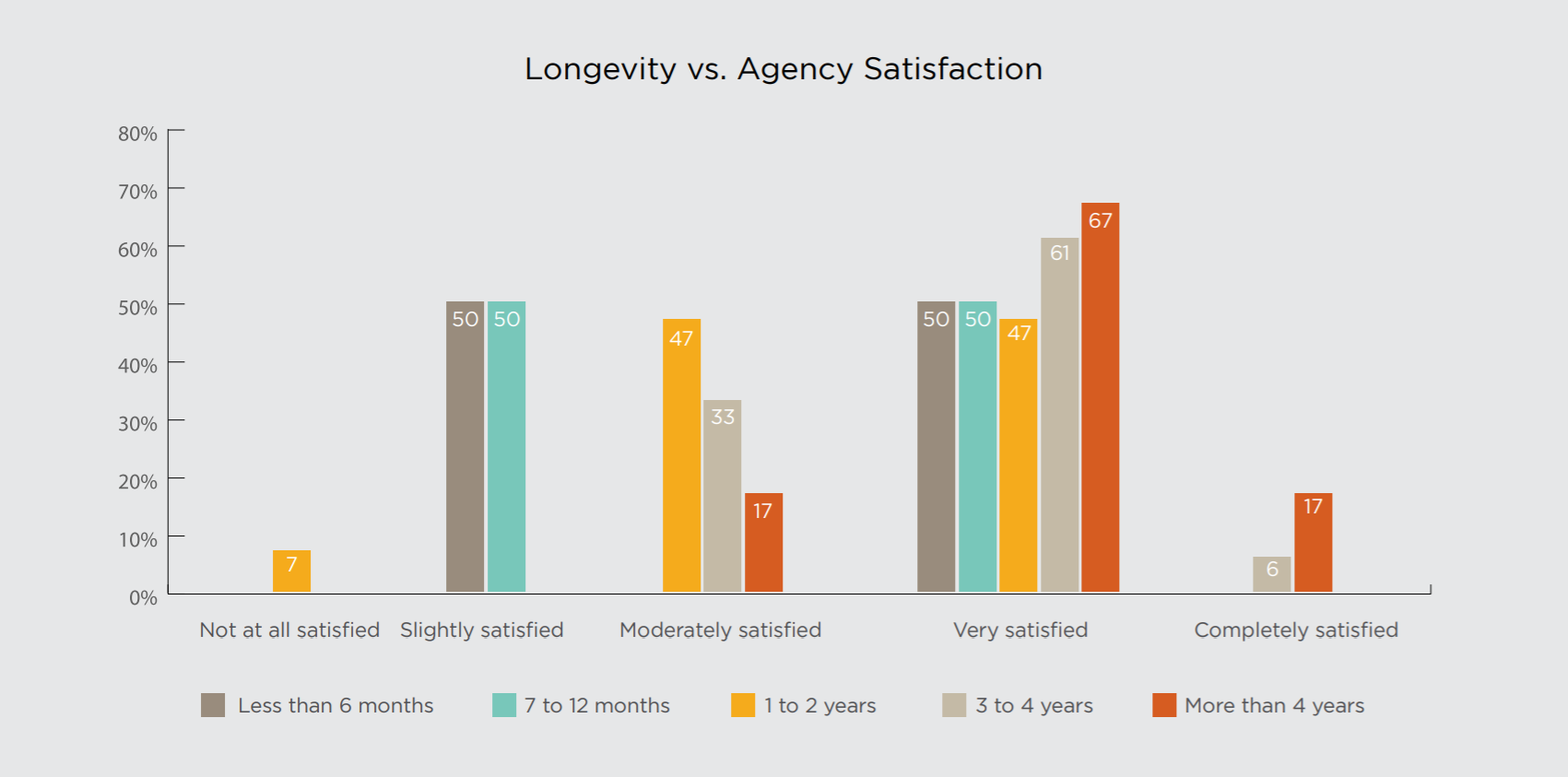 Since the research clearly reveals satisfaction with agencies is a key driver of agency longevity, the link between agency satisfaction and a thorough search process is important. The use of RFPs tracks both satisfaction and longevity.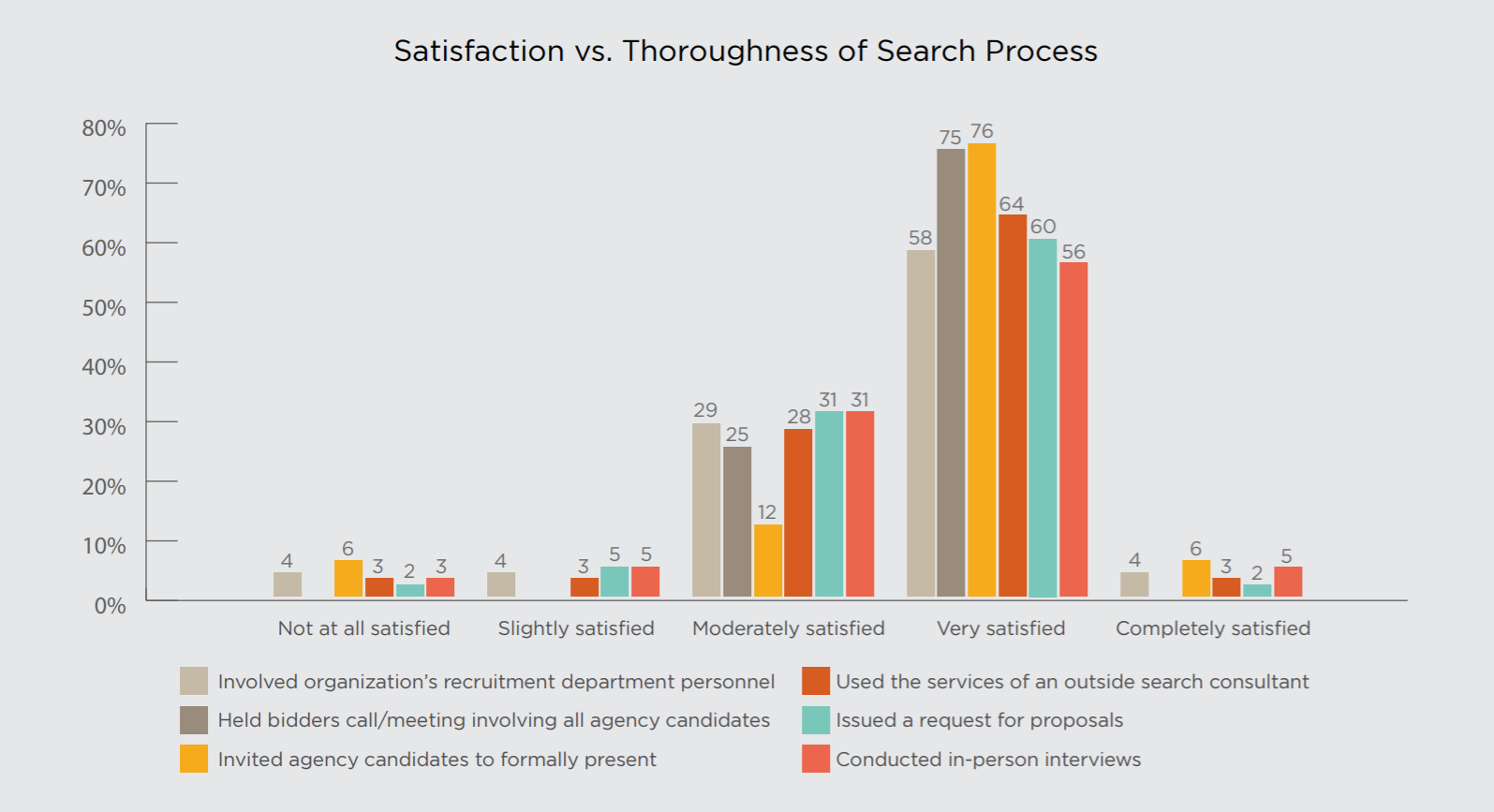 Here are six specific takeaways to increase the odds of more productive and longer relationships for client organizations conducting an agency search:
1. Compare your agency search process to what you use to hire an employee at a mid- to senior-level. The expense of an agency could be several multiples of an employee at this level. What would be the benefits of finding the strongest agency for the assignment? What is the cost of getting the decision wrong? It's worth considering this in terms of time, dollars, and opportunity cost.
2. Conduct a more extensive search. If time is an issue, the types of search tools, services, and consulting-based approaches offered by CommunicationsMatch™ and RFP Associates are available to help companies find agencies in the same way technology-based search tools and headhunters are widely used to hire employees.
3. Cast the search net wide at the beginning of the search process. This provides the opportunity to ensure qualified and diverse agencies are added to agencies you may be aware of and those that are peer recommended. Using search tools offers a quick way to identify and shortlist candidate firms, ensure you're following best practices, and can point to a thorough process for internal and external audiences to justify hiring decisions.
4. Use an RFQ/RFP process to shortlist and select candidates, make sure the process is fair to all, and provide all the information agencies need to respond. As the research shows, using RFPs and other components of a thorough search process are associated with agency satisfaction. Make sure all the information an agency needs to respond is there, including confidential details (use an NDA) and budgets. Tools we have developed offer a path to a more comprehensive and streamlined RFQ/RFP process. For larger assignments, tailored RFPs may be the best path to selecting the right agency.
5. Prepare an agency evaluation scorecard for finalist presentations that provides a fair and balanced assessment of each agency against the scope of work/selection criteria. Only bring agencies in to present that you seriously want to hire based on a comprehensive review of capabilities and the RFP. The work required to complete a presentation is extensive and client-organizations must respect the agencies' time. If a decision has been made, don't waste the time of agencies if you are not going to hire them. It will make it harder to engage the firms you want for your next search.
6. Ensure the RFP and presentation process aligns expectations around results and that the onboarding process supports this. It is important to be clear with agencies about expectations and for agencies to have conversations with clients around priorities. The research shows agencies falling short in key areas that are important to client-organizations. Since satisfaction is key to longevity, getting off on the right foot is critical to productive relationships.
For additional perspective, download the report or read the summary recommendations for clients and recommendations for agencies.
Addressing areas of the agency search process that are not ideal, and leveraging best practices from the process used for hiring employees, offers a path to better results as well as stronger and longer relationships.
Locke developed and launched CommunicationsMatch, an agency search, hiring, and services platform with more than 5,000 listed firms and professionals in 12 countries, to help companies find and engage agencies, consultants and freelancers that match needs. A founder of communications agencies and startups, he previously headed communications functions at Prudential Financial, Morgan Stanley and Deutsche Bank.
Steve Drake and Robert Udowitz founded RFP Associates in 2011 after observing the agency selection process from "both sides of the aisle" and recognizing the need to streamline and improve the way searches are made and agencies selected from an honest, unbiased approach. Over the course of their careers Robert and Steve have worked at agencies, corporations, and trade associations in New York, Washington, and, for Steve, in Beijing, China, where he opened Fleishman-Hillard's first Asian office. In recent years they have also been sole practitioners for a variety of clients seeking media, crisis, and strategic counsel.