How will we remember the coronavirus pandemic when all is said and done?
In a new article for CommPRO.biz, The Power of Pulling Together, I argue that it will likely be for the heroism of healthcare workers and first responders, and the unsung thousands who helped others.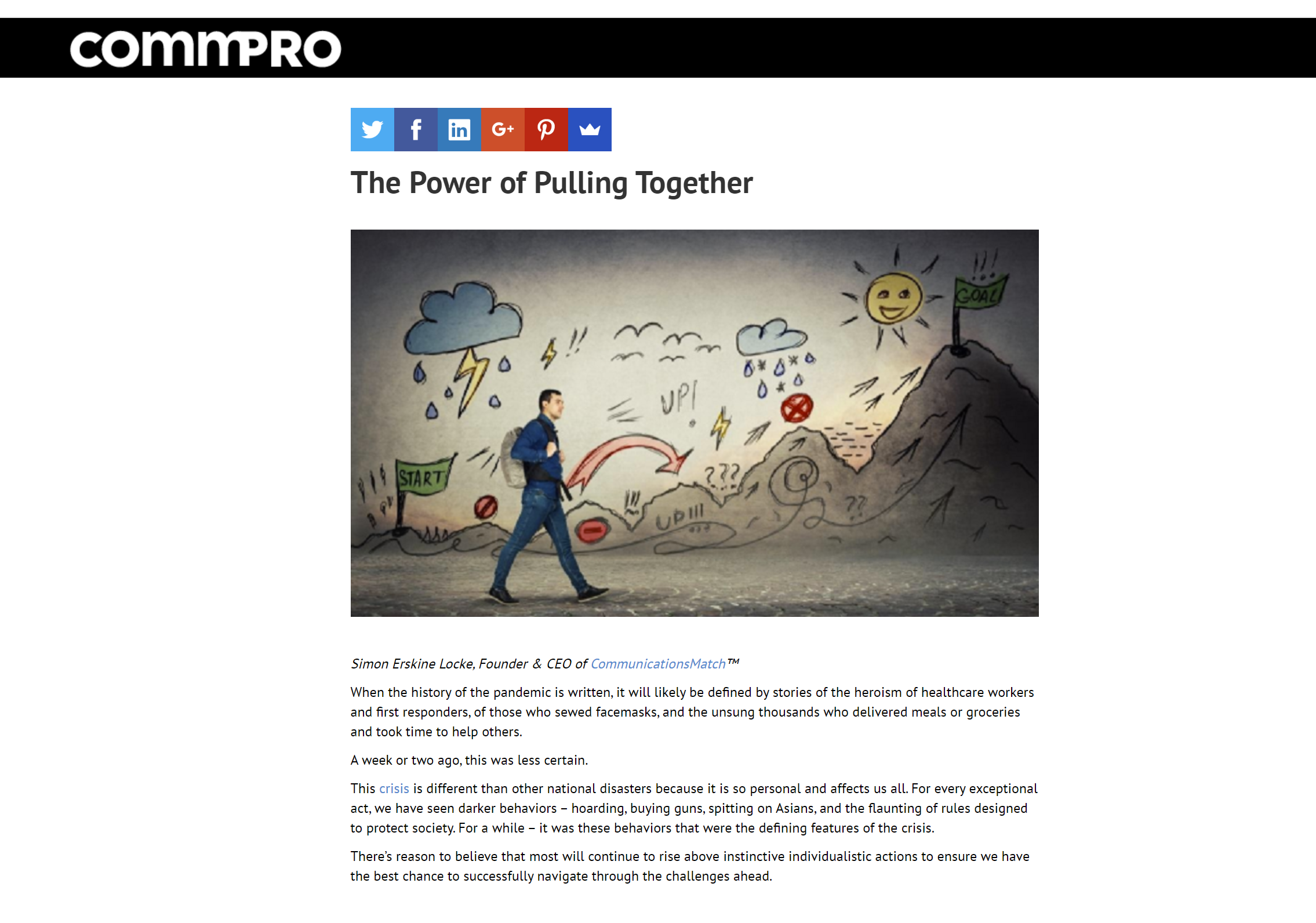 The initial focus was different: "For every exceptional act, we have seen darker behaviors – hoarding, buying guns, spitting on Asians, and the flaunting of rules designed to protect society."
Most are rising above instinctive individualistic actions. This will ensure we have the best chance to successfully navigate through this crisis.
What we do over the coming months will impact how swift the recovery will be and shape our lives and businesses for years to come.
Of the many exceptional things people have been doing, in the article I note human responses that have resonated with me.
Prudential Financial (my former employer), deferring rents for small businesses around its headquarters in Newark. Upscale restaurant chefs in New York cooking for first responders. Musicians organizing performances over the internet. Friend and executive coach, Ken Jacobs, reaching out to his clients and network offering to just talk about how they're managing in these uncertain times.
We all have a role to play. We need to leverage our resources to help our communities manage through and recover from the impact of the coronavirus pandemic. I highlight steps we've been taking at CommunicationsMatch™ to make a difference.
When we pull together as an industry, when we are there to help those who need it, when we use the resources at our disposal to make a difference, we are all better for it.
The article highlights the immense power of collaboration and the need to tap into it.
Simon Erskine Locke, founder & CEO of CommunicationsMatchTM
CommunicationsMatch™ offers search tools and services to help companies find, shortlist, and hire agencies, consultants, and freelancers, and help agencies and professionals generate new business leads. During the coronavirus pandemic, CommunicationsMatch is leveraging its resources to help connect struggling not-for-profits and companies with Communications Volunteers willing to give their time to help others at no cost or discounted services. Through its partnership with the Marketing IMPACT Council™, it is offering communicators access to a unique low-cost telehealth services program from MDLIVE, as well as additional time and discounts on membership plans.