During the pandemic, CommunicationsMatch™ is helping companies virtually connect with communicators and promote the key role the industry has to play in helping clients reset strategy and messaging.
Read summary articles and watch replays of The COVID-19 Reset webinar series.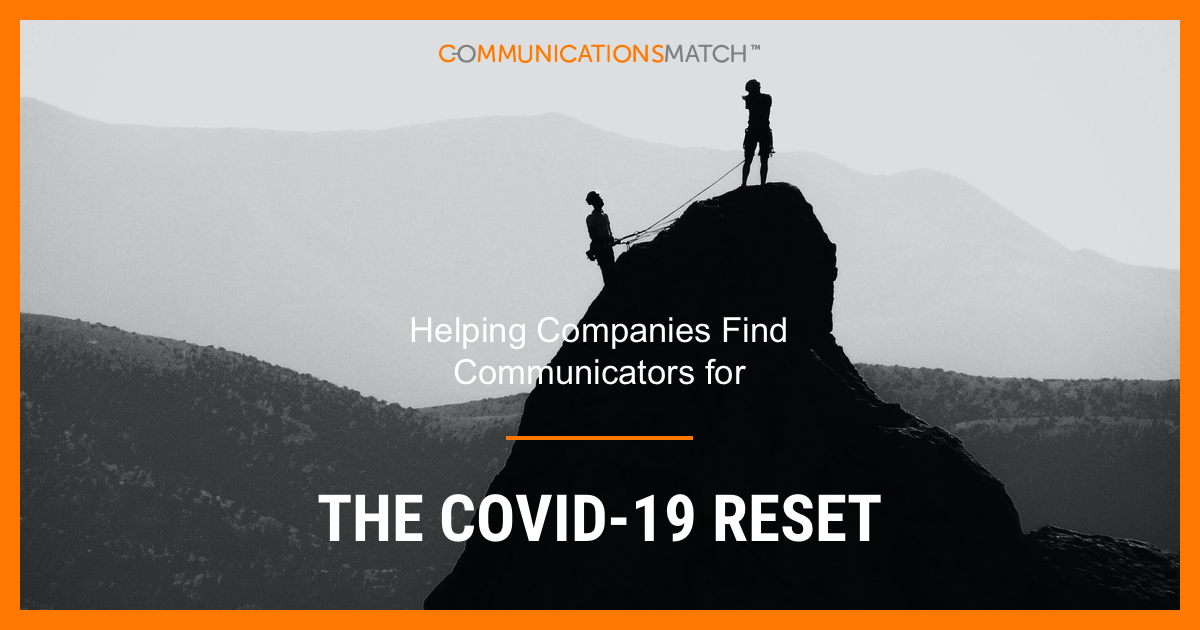 Companies Search For Free
During this period of challenges and opportunities, companies continue to search for agencies and professionals by capabilities that match needs at no cost – generating qualified new business leads for communicators with profiles on the site. There are no success fees or commissions when matches are made. Our online Agency Select™ tools offer a simple, streamlined path to evaluating and hiring agencies and consultants.
Agencies & Consultants Get Three Months Free
To help agencies, consultants and freelancers through the pandemic, we have extended our offer of three months for free until October 1st. This applies when profiles are updated and as a three-month introductory plan for new members. In addition, we're continuing the 25% reduction in annual basic and comprehensive profiles until October 1st by using the code RECOVERY2020 at checkout.
Freelancers: Free Six-Month Profiles
To help freelancers through the crisis, we will continue to offer a free six-month comprehensive profile through October 1st.
MDLIVE For Communicators & Marketers
Through our partner the Marketing IMPACT Council™, we are pleased to provide access to highly-respected telehealth provider MDLIVE 24/7 for the uniquely low rate of $13.95 for an individual or $18.95 for a family, per month. Use this link to find out more and sign up using the CommunicationsMatch partner option. (Note: This special Marketing IMPACT Council™ Member and Partner program is NOT available directly from MDLIVE, so be sure to use only this link.)
These are challenging times, but as we shared when we first announced our sign-up offers in April – by pulling together we will get through this.
In fact, by seizing the opportunity to reset value propositions and help clients transition through the crisis there are opportunities to come out of this crisis stronger than ever.
Sincerely,
Simon Erskine Locke
Founder & CEO
CommunicationsMatch™