In this summary of the first webinar in our series - The COVID-19 Reset: A Value-Based Strategic Path Forward - distinguished professors Noel Capon (Columbia Business School) and Amy C. Edmondson (Harvard Business School), and Founder & CRO of Researchscape, Jeffrey Henning, share key insights into understanding how value is changing for clients and consumers, as well as the importance of psychological safety and research during the crisis.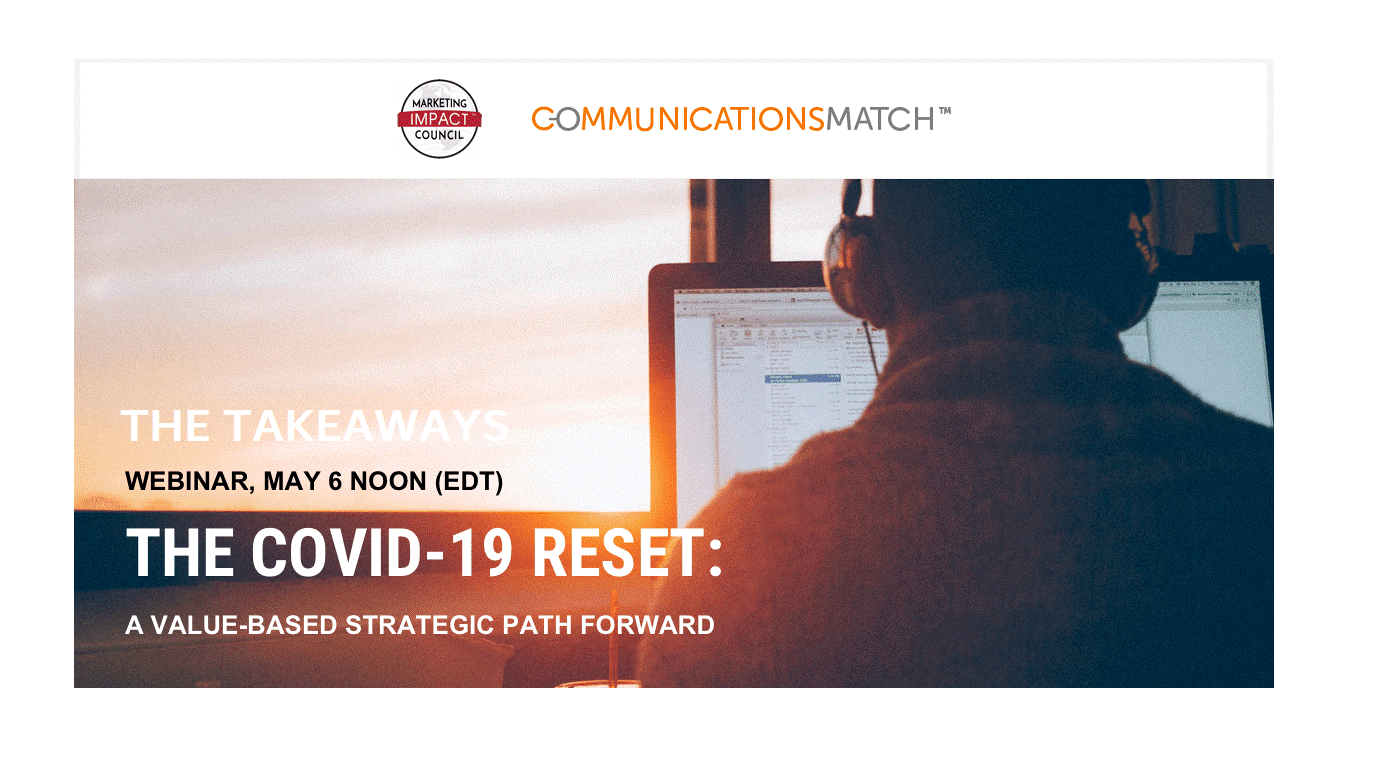 Distinguished Harvard Business School professor and author of The Fearless Organization, Amy C. Edmondson, provided a succinct takeaway from The COVID-19 Reset: A Value-Based Strategic Path Forward webinar on May 6th – "There's no back to go to." She added, "...there's only forward."
In the webinar, the first in a series from the Marketing IMPACT Council™ and CommunicationsMatch™ on strategy, marketing and communications in a world impacted by the COVID-19, Columbia University Business School professor Noel Capon, author of Managing MARKETING in the 21st Century, highlights how value propositions have changed during the pandemic and key steps required to navigate through it. Watch the replay.
"Now is time for companies to explore what they've been doing to see if they have distinctive competence or see if they can get the competence to address new opportunities and bring value to customers," says Professor Capon in the webinar. "The opportunity may be in what they've been doing already or something completely different."
Drawing upon research conducted during the crisis, webinar panelist Jeffrey Henning, Founder and Chief Research Officer of Researchscape, adds that the rapidity of change during the crisis requires companies to adapt very quickly to the new landscape.
Pointing to research that indicates evidence of short- and longer-term behavioral changes through the crisis, he shares that asking consumers to imagine what things are going to be like is a challenge. He encourages clients to focus on scenario planning for V, U, or L-shaped recoveries.
"This requires great organization agility and flexibility, thinking about multiple possibilities, while realizing that no one has a crystal ball through which they can predict outcomes," Henning notes. To find opportunity, his advice is "to explore pain points of customers."
Moderated by John Greco, Founder & Chairman of the Marketing IMPACT Council™, and Simon Erskine Locke, Founder & CEO of CommunicationsMatch™, the webinar highlights a number of additional considerations important to the process of responding to changes in value propositions driven by the pandemic.
Professor Capon raised a primary concern that the idea of "clients" was missing from much of the discussion around companies opening businesses.
"People making decisions about the economy have got it wrong. When people talk about opening the economy, the dominant perspective is we've got to get factories moving, supply chains moving, and stores open. If we do those things…then we've got it licked. The problem is it leaves out a crucial element – customers. If we [businesses] don't have customers, whatever we do is irrelevant."
The key question he suggests all companies need to ask is – Who are their customers going to be as reopening starts?
Professor Edmondson provides perspective on how companies pull together to align themselves and innovate during the crisis. She notes that psychological fear for companies is bimodal. On the one hand, the fear of COVID-19 was a potential force to galvanize teams to work together, but it is also important to recognize that unless employees working from home or on the frontlines of the crisis feel psychologically safe they would not speak up to raise concerns and ideas.
"Need to double down on creating an environment where people feel their voices are welcome – good, bad, and ugly – this is a time for great candor, great transparency," she argues. "Keep doing and saying things that keep people moving forward."
In response to a question about how to find the greatest value for businesses when value is changing, Capon noted the importance of research.
Using the example of a restaurant, he noted that while companies may provide the appearance of doing everything right, including social distancing and disposable menus, potential customers would likely have questions about what was going on in the back of the restaurant.
In this changing environment, he notes that companies have "got to look for other needs that come to the surface" during the crisis.
With employees working from home, Edmondson shares that it is important to remind teams what they do matters, and to, for example, "never start conference calls assuming you know what is going on for this employee."
The panelists discuss the potential for opportunities in the crisis, the acceleration of broader shifts already underway, and the potential to uncover capabilities that may be uniquely relevant in the current climate.
Capon notes that it is essential for companies to develop a culture where people can get all the ideas out. Edmondson adds that there needs to be a fundamental shift from management thinking to innovation (design thinking), which starts with needs and opportunities to get to new solutions that add value in new ways. Folks who have been thinking about KPIs, lines-of-sight, deliverables and targets, are going to have to learn new ways of thinking.
She also argues that companies must act to learn quickly about what works and engage in much more communication than you think is necessary…double it or triple it. It is also important to resist the human urge to be defensive, to say we did the right thing, she notes. "Chances are you are doing 10 wrong things every day and that's OK. None of us have ever been here before."
Researchscape's Henning adds, "Too often when people think about experimenting, they look at the failures as being bad and something to be avoided. Embrace failure and use that to learn from and test. If an organization doesn't have that level of failure it is not going to be able to adapt."
Citing William Gibson, "the future is already here – it's just not equally distributed," Henning suggests that since Asia and Pacific countries are further along there are lessons to be drawn for businesses in the U.S.
Watch a replay of the full webinar here.