In addition to making it simple to create and post RFPs (or RFQs), and for agencies to respond using our Agency Select™ tools, clients have the option of sending an RFP directly to agencies or professionals they have selected following a search for qualified firms or to make an RFP public.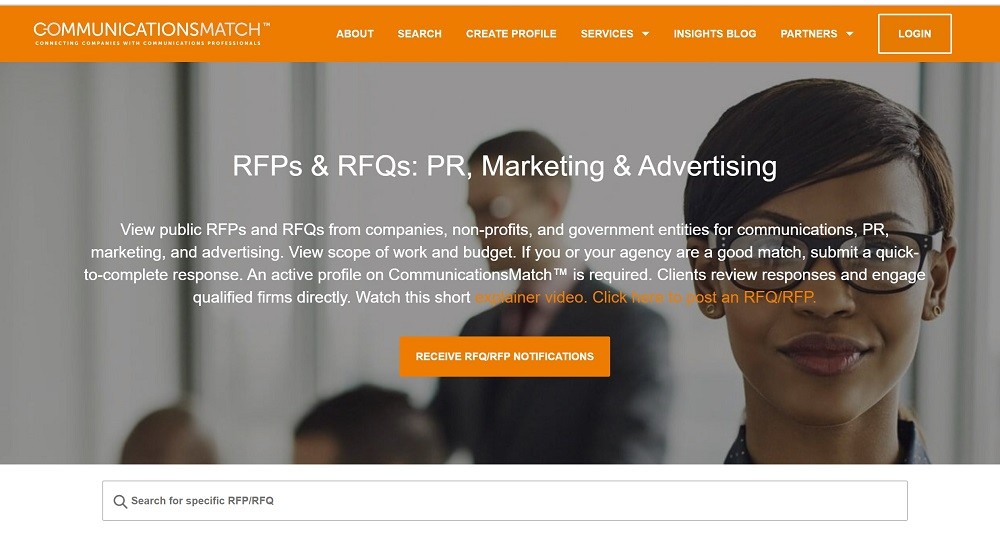 Our template-based process ensures agencies and professionals have all the information they need to make the decision to participate.
When using our public option, when a client posts an RFP (or an RFQ), we go through the following steps to ensure it is seen by qualified agencies:
When posted, the RFP is automatically sent to CommunicationsMatch™ subscribers who have signed up to receive RFP notifications (Subscribe here)

The posted RFP becomes searchable on CommunicationsMatch™, Google and other search engines

Our team searches the 6,000-plus agencies/professionals on CommunicationsMatch™ for firms with the industry and communications expertise that seem to be a good fit for the assignment and directly notify them of the RFP

The RFP is shared with our partner organizations, including the Public Relations Society of America to reach members of the world's largest PR association, as well as other partners

We share a link to the RFP through our social media networks

We leverage our personal networks to ensure the best qualified agencies see the opportunity
This process provides our clients with the confidence of knowing that an RFP is both publicly disclosed and the best chance of ensuring that agencies that are a good fit will engage and respond.
For more information watch this video:
Or visit: https://www.communicationsmatch.com/public-relations-rfps