CommunicationsMatch™ has partnered with the Public Relations Society of America, the nation's leading professional organization serving the communications community, to develop PRSA's new Find Agencies, Professionals & Resources search tool, launched on July 15.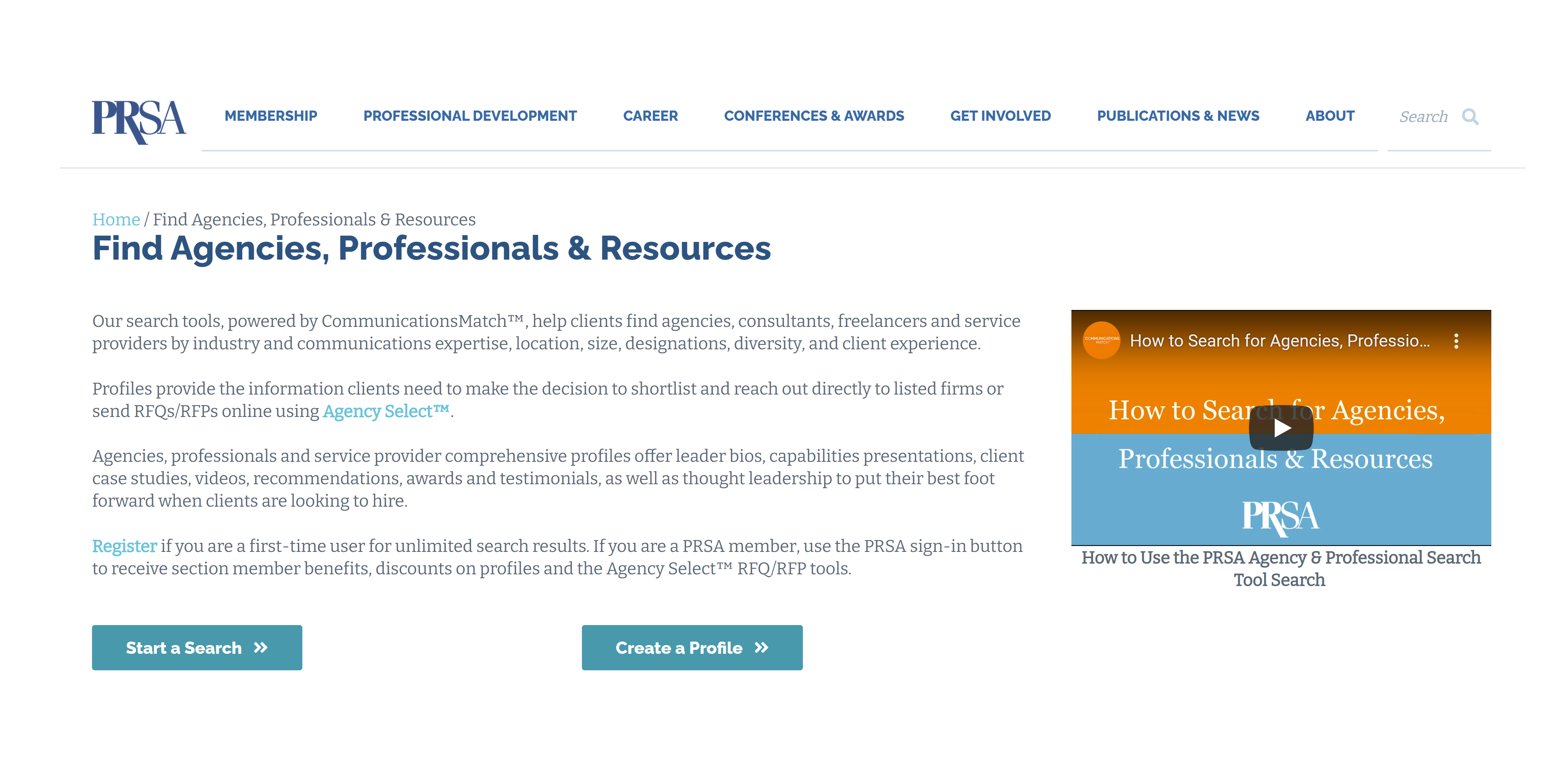 Powered by CommunicationsMatch, the search tool helps clients identify public relations and communications agencies, professionals, and service providers with the expertise that matches their needs. Clients can find practitioners based on industry and communications capabilities, size, location, designations, diversity, client experience and more.
View this short video on how search works:
CommunicationsMatch – built by communicators for communicators - developed directory and comprehensive profiles in partnership with PRSA for individuals and companies to provide the information clients need to create shortlists and reach out directly to individual firms and professionals. Clients searching for expertise can use the integrated Agency Select™ hiring tools to request information or issue RFPs.
Active PRSA section and general members receive benefits and discounts on annual profiles and the built-in RFP tools by using the PRSA one-click registration. PRSA members with an existing profile on CommunicationsMatch should login, click PROFILE and then Subscription Plans, and link to their PRSA account to view plans available to them.
Watch this short video on how to create an agency, consultant, freelancer or service provider profile:
"The new search tool is a powerful way for PRSA members to showcase their capabilities and generate new business leads," said Jay Starr, senior vice president of membership at PRSA in a press release announcing the launch. "This collaboration with CommunicationsMatch is just one of the ways in which we are adding benefits and resources to help members achieve their networking, professional development, and new business goals."
Both the PRSA and CommunicationsMatch communities will benefit from this partnership with increased client search traffic and the addition of new member agencies, consultants, freelancers and service providers on the platform.