CommunicationsMatch™ has launched a new option in its Agency Select™ tools, giving companies, government entities, and not-for-profit organizations the ability to create and publicly post requests for proposals for communications agency services of any size and scope. Agency Select users can also send RFPs directly to targeted agencies and professionals listed on the site.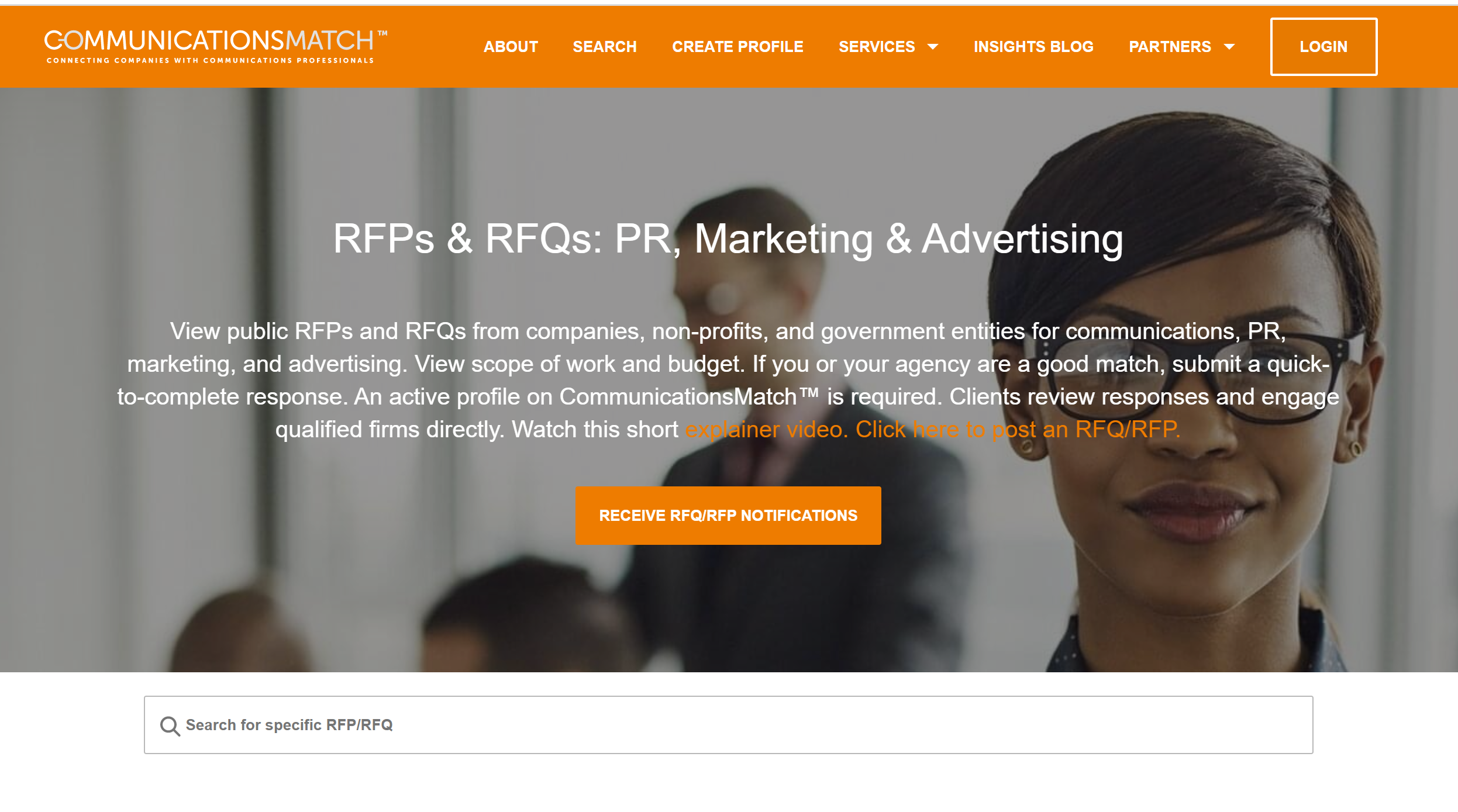 Agency Select™, developed with partner RFP Associates, streamlines the request for proposal and qualifications process for clients and agencies. With customized templates that provide all the information agencies need to respond, client organizations can create, send, manage, and compare responses side-by-side to select finalists for presentations.
Agency Select was developed to ensure requests for qualifications (RFQ) and RFPs are sent with intent to agencies and professionals pre-qualified for the project, with the information those agencies need to decide if they are a good fit. This streamlines the process and delivers better outcomes for all involved and maintains a uniform structure and process to better review and select responding agencies.
This enhanced feature is in response to strong client interest in a public RFQ/RFP option for specific assignments, such as when public dissemination is required or when the skillsets needed require casting the search net as broadly as possible.
As part of the public RFQ/RFP process, the project is shared across industry platforms and a link to the public RFQ/RFP can be shared with networks or contacts.
Watch this short video on how the Public RFP process works.
With the public RFP process on CommunicationsMatch™, clients will need to register and sign up for the RFP services, which includes the ability to post, send, and manage RFQs/RFPs for a six-month period. Agencies with active directory or comprehensive profiles on CommunicationsMatch can view and respond to public RFQs/RFPs.
Searchable profiles on the platform start at $95 for 12 months and provide visibility with the tens of thousands of clients using the tools to search for agencies, consultants, and services providers through CommunicationsMatch.com, PRSA's Find a Firm, and Capitol Communicator's Sourcebook sites, which are integrated with and powered by CommunicationsMatch's search and hiring technology.
CommunicationsMatch's agency search, hiring tools, and resources help companies save time, achieve better search outcomes, and build stronger brands. With more than 100,000 searches and 6,000 agency and individual profiles, clients are using CommunicationsMatch to find PR and communications partners by location, size, clients, keywords, ownership, designations, diversity, and more. CommunicationsMatch also offers agency search consulting, research tools, as well as programmer & developer services.
RFP Associates, LLC., CommunicationsMatch's agency search consulting partner, is a communications agency search firm that developed the specialized search and selection methodology incorporated into the Agency Select™ tools. Working together, CommunicationsMatch and RFP Associates help corporations and associations find and engage agencies for agency-of-record assignments and confidential projects.