We are closing in on 125,000 agency searches conducted on the platform and 525,000 views of agency and professional profiles. We have doubled total searches and profile views over the last two years, and with our partnerships and RFP tools search traffic has continued to grow. 
There's good reason for this. Built by communicators for communicators, we have remained focused on our core mission of "Connecting companies with communicators" the right way, which is why we are a partner of the Public Relations Society of America and Capitol Communicator.
As new entrants to the market position themselves as matchmakers between agencies and clients or add the communications industry as a focus, we are different.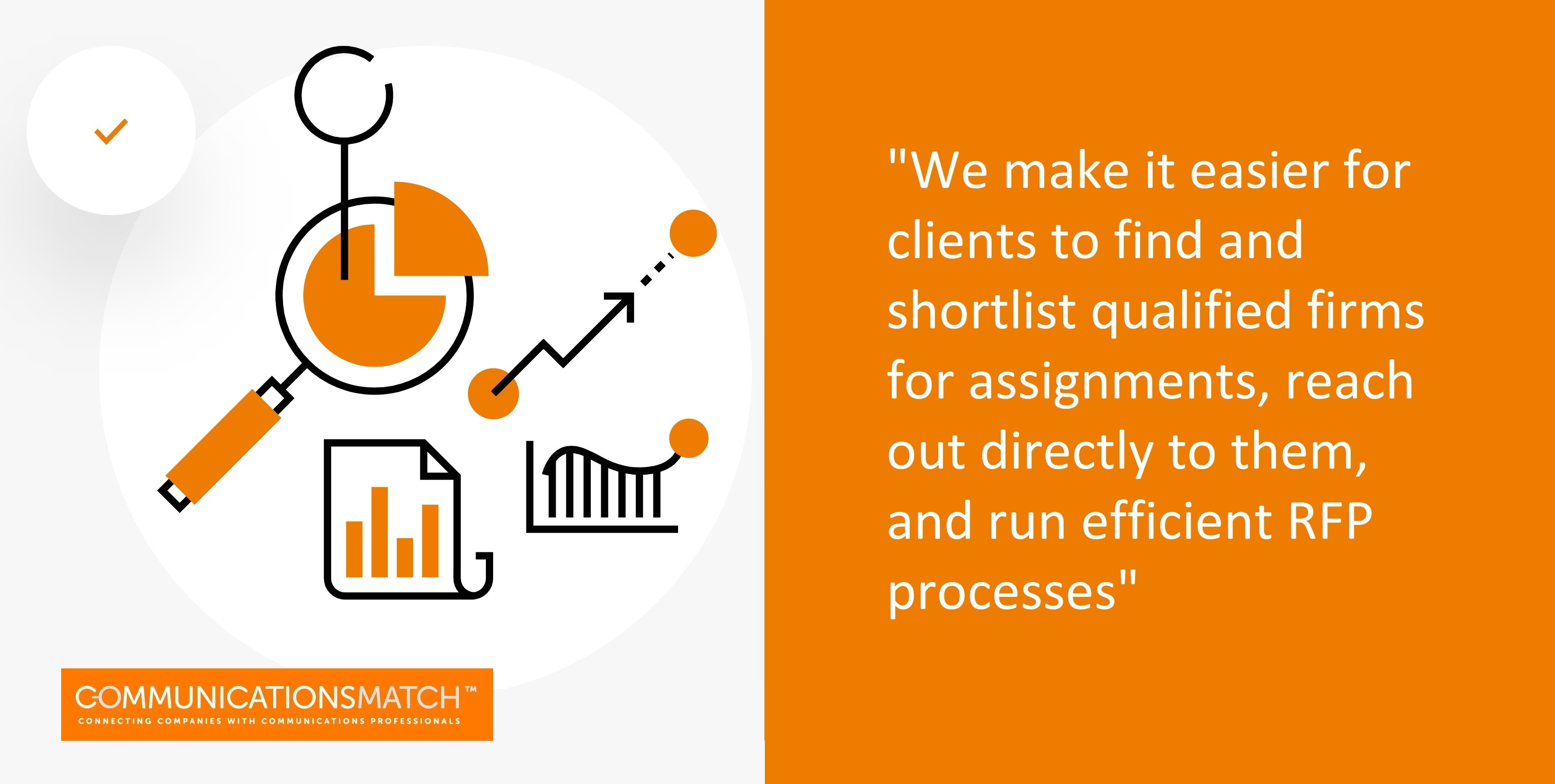 We provide communications-focused tools that help clients find agencies and professionals with the skillsets and capabilities that match their needs.  
We don't tell clients who to hire.

We don't put a finger on the search tools based on who pays us.

We don't take shortcuts.
Here's what we do:
We make it easier for clients to find and shortlist qualified firms for assignments, reach out directly to them, and run efficient RFP processes.

We share RFPs created by clients on the platform with the information agencies need to decide if they want to participate.

We streamline the hiring process to deliver better outcomes for clients and agencies.

We help build strong, productive client-agency relationships by ensuring needs and skillsets are aligned from the beginning.

We value communicators' and agencies' time.

We generate high-quality qualified leads from clients that have done their research and are interested in working with your firm.
Find out more at www.communicationsmatch.com. I always welcome the opportunity to answer questions. Contact me at [email protected].           
Simon Erskine Locke is founder & CEO of communications agency and professional search and services platform, CommunicationsMatch™. CommunicationsMatch's technology helps clients search, shortlist and hire agencies and professionals by industry and communications expertise, location, size, diversity and designations. CommunicationsMatch developed the industry's first integrated agency search and RFP tools, Agency Select™, with RFP Associates.