In a recent CommPRO.biz article, we share communications agency search takeaways and insights for corporate communications professionals and agencies from a new survey by CommunicationsMatch™, RFP Associates, and Researchscape of Fortune 1000 and large not-for-profit agency hiring practices. Read "Hiring PR & Communications Agencies? Looking to Win Business? New Agency Search Research Offers Lessons from the Fortune 1000".
The interim results show that communications leaders primarily rely on their industry knowledge and word-of-mouth recommendations from peers in the process of selecting agency candidates, and, that two-thirds use RFPs as part of the selection process.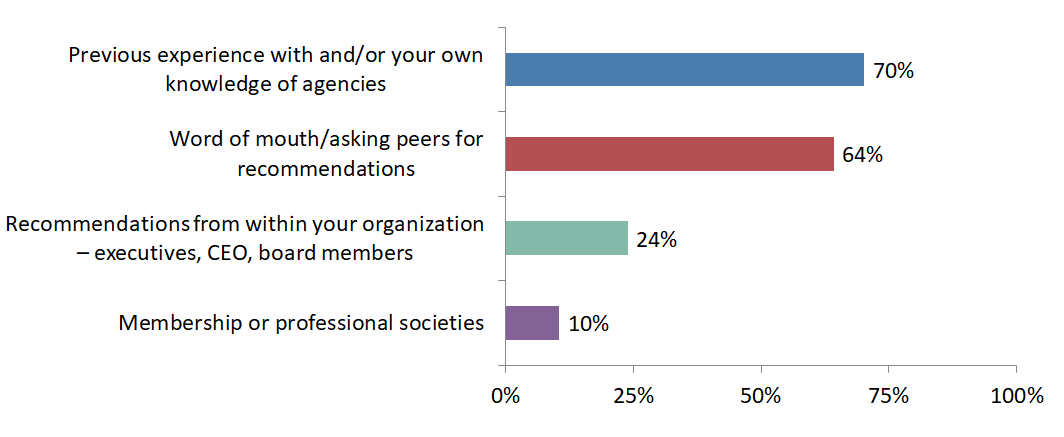 Although the study revealed high levels of overall satisfaction with agencies and their search process, it shows opportunities for improvement. A consistent 40-50% of those who responded were only moderately or slightly satisfied with the RFP process, the numbers of agencies considered, and the time taken for searches. Similarly, meeting deadlines, staff turnover, and account management were raised as issues with agencies that had been hired.
Among the key insights for agencies looking to increase the chance of being hired is that companies feel agencies' responses to RFPs are boilerplate; upselling and differentiation were also issues. In the CommPRO article we explore potential reasons for this that were discussed at the Bridge Conference and will address this further in the final agency search survey report.
The findings reveal what companies are looking for and value most in the agency hiring process. "Understanding of my organization's communications needs," and "quality of strategic thinking, program ideas, and recommendations," were the top considerations for companies hiring agencies.
The initial results were presented at the Institute for Public Relations Research's Bridge Conference in Washington, D.C. on April 11, 2019. Watch a short video summary of the interim results: How Companies Search For PR Agencies.
Click here for the PR & Communications Agency Search & Hiring Survey Interim Report and to download the IPR results presentation.