CommunicationsMatch is now offering a new monthly payment option for agencies, consultants and freelancer profiles.
Profiles provide the information clients need to search for, engage with, and then hire agencies and professionals with specific industry and communications expertise for agency of record assignments and projects.
To date there have been around 140,000 searches for agencies and professionals on CommunicationsMatch™ and more than 530,000 views of individual profiles.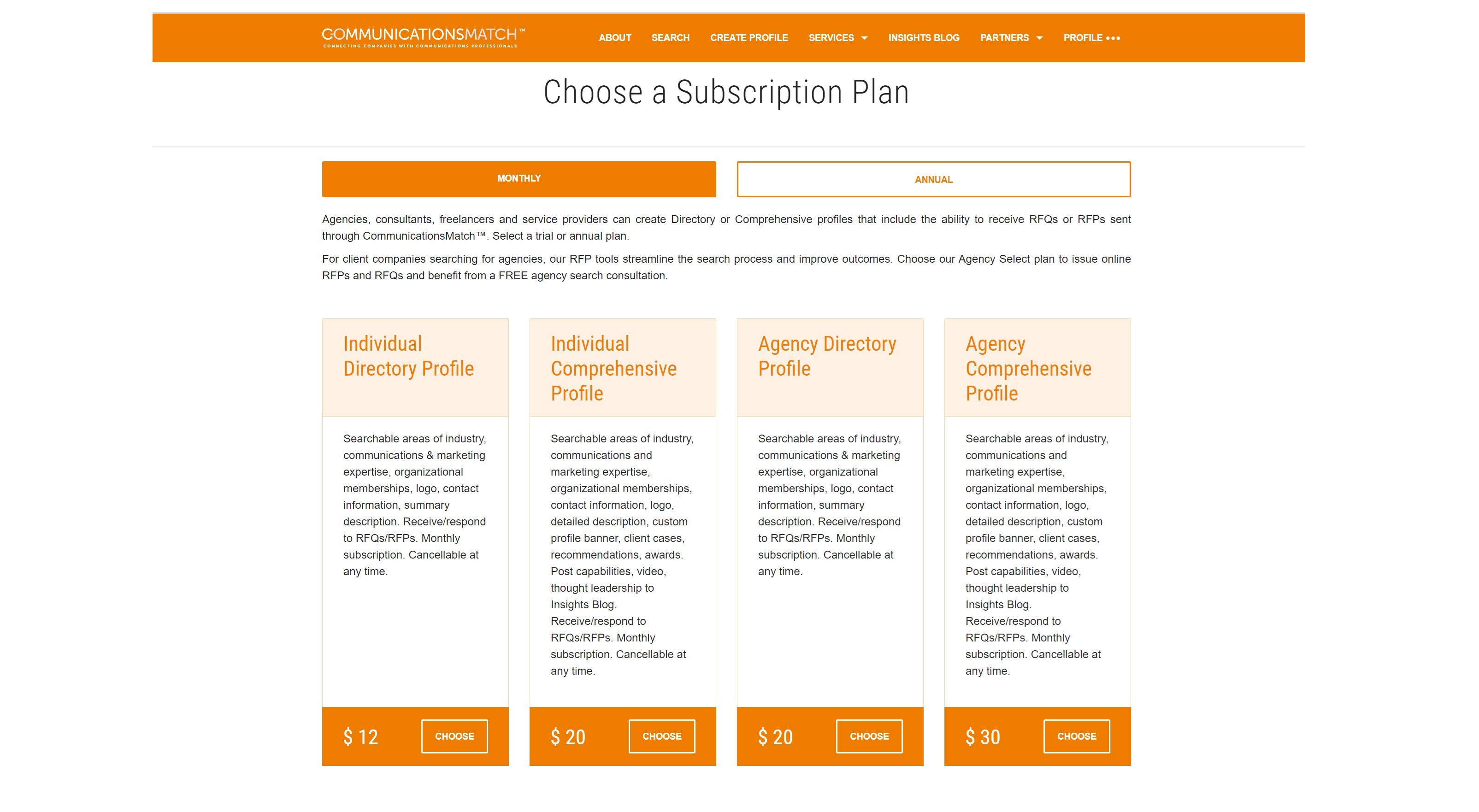 "By design the cost of our annual subscription plans has always been modest – around one hour of billed time for a year of visibility with clients searching for communicators and the ability to respond to RFPs sent through and posted on the platform," said Simon Erskine Locke, Founder & CEO of CommunicationsMatch™. "Adding the new monthly payment option further lowers the barrier to access qualified leads and RFPs."
The new monthly subscriptions start at $12 for an individual directory profile and $20 for an agency directory profile. Directory profiles include searchable areas of expertise, a summary description and contact information.
Comprehensive profiles, which include the ability to add individual profiles for leaders, detailed agency descriptions, awards, recommendations, and post to the Insights Blog, are $20 a month for individuals and $30 for agencies. We offer unique partner subscription rates for PRSA members and Capitol Communicator subscribers.
Annual profiles are priced at an approximately 20% discount to monthly subscriptions. All can be cancelled at any time at the end of the subscription period.
"It's important to recognize that an investment in a profile is an investment in marketing your agency or consulting business," added Locke. "Our goal is to leverage around 50% of subscriptions to marketing the CommunicationsMatch™ platform with the balance invested in its operation."
For client organizations we are now also offering basic and premium options to access our AgencySelect™ RFP/RFQ tools for a six-month period for $195 or $395. The tools streamline the process and enable clients to send RFPs directly to shortlisted agencies or make an RFP public. With the premium option we provide consulting support and distribute public RFPs to communications audiences.
Click here to register to create a profile or login and choose one of the new subscription options.
Contact us at [email protected] with any questions.