Hiring an agency is one of the most significant decisions companies make. It's not just because of the significant financial investment involved, but you are also handing over the responsibility of a critical asset – your brand.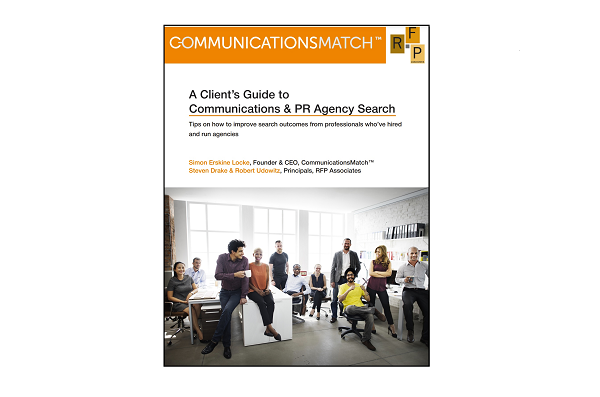 Our Client's Guide to Communications & PR Agency Search continues to be a valuable resource for business leaders, marketers and company communicators looking to achieve better hiring outcomes.
Written by industry veterans, CommunicationsMatch™ founder & CEO Simon Erskine Locke, and RFP Associates' principals Steve Drake and Robert Udowitz, it offers practical insights and perspective on the keys to hiring success and building long-term productive agency relationships.
Locke, Drake and Udowitz, who have worked as senior corporate communications execs and on the agency side of the PR business, draw upon their experience to provide a roadmap for the hiring process that starts with identifying agencies with the skillsets that match needs and ends with what to look for in agency presentations.
It highlights the value of a streamlined request for qualifications and request for proposals process – generally used by larger companies - to finding the best agencies for critical assignments. The key takeaways from which are embedded into CommunicationsMatch's Agency Select™ online RFP tools. It also addresses key pitfalls and questions clients need to ask themselves and agencies in this process to ensure valuable time is not wasted.
Download the Guide to Hiring Agencies or visit our additional Agency Search Resource Center.